New Screenwriter Scales 'Cliffhanger' Remake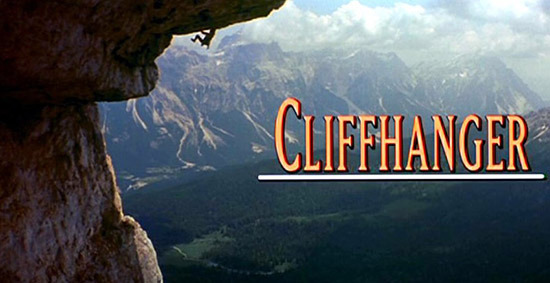 A "re-imagining" of Renny Harlin's 1993 film Cliffhanger is in the works from producer Neal Moritz, and a new screenwriter has been hired to push the development forward. Joe Gazzam was given the nod to write the screenplay based on his new pitched take. 
Deadline reports that StudioCanal has the rights to the remake, and that there is no domestic distributor on board just yet. The company run by Mortiz is housed at Sony, but that studio already has an Everest film going, from Doug Liman with Tom Hardy starring. Whether Sony will grab on to Cliffhanger remains to be seen. (Mountain movies are going strong now; Universal also has Everest, with Jake Gyllenhaal, Josh Brolin, Robin Wright, Jason Clarke and John Hawkes starring in a film based on the disastrous 1996 attempt to climb the mountain.) 
We don't know how faithful to the original film this version will be. It probably won't have Sylvester Stallone, who played a mountain climber/rescue ranger whose friend dies in a climbing mishap. Unable to save her, Stallone's character bails on climbing, until he's pulled back to the mountain when thieves kidnap other rangers in an effort to force them to aid the search for three suitcases full of cash lost in the mountains during a failed heist.
Here's the trailer for the original Cliffhanger: