Sequel Bits: '22 Jump Street', 'Sin City 2', 'Transformers 4', 'Dolphin Tale 2'
Lots of things to see in this edition of Sequel Bits. After the jump:
See a Transformers viral video and prepare for another trailer
Michael Bay comments on the cool cars in Transformers 4
22 Jump Street gets another clip and another featurette
Check out the trailer for Steve Coogan's The Trip to Italy
Another Trailer Park Boys movie opens in the U.S. this fall
Joseph Gordon-Levitt and Robert Rodriguez talk Sin City 2
Here's the Sin City 2 poster that was too hot for the MPAA
Here's the Dolphin Tale 2 poster that was just fine with the MPAA
The Attack on Chicago figures into the new film, somewhat. The incident has turned humanity against the Transformers, which hurts Optimus Prime's feelings. But don't feel too bad for him, because he gets to ride a Dinobot at some point. Anyway, for more info visit TransformersAreDangerous.com. [via Latino Review]
If viral video ads aren't your style, there's also a more traditional Transformers: Age of Extinction due out in the near future. The Alberta Film Ratings Board has given the new spot a PG rating and listed its running time as 1:39. [Transformers Live Action Movie Blog]
What that new trailer will reveal remains to be seen, but we can definitely count on seeing lots and lots of fancy cars. According to Michael Bay, he had his pick of vehicles for Transformers: Age of Extinction. "The first time, I had to beg for vehicles," he recalled." But now — I am not kidding you — every car company says, 'We will fly out any car to show you so it can be in the movie.'"
That is, Bay adds, "As long as it's one of the good guys." Or at least one of the not-bad guys, like Lockdown, who turns into a Lamborghini Aventador: "He's just a bounty hunter, so they were okay with that." Also seen in the movie will be a 2014 Freightliner Argosy (the alternate form of one of the villains), a Western Star truck (Optimus Prime), and a 2014 custom-made Camaro (Bumblebee).
Transformers: Age of Extinction opens June 27. [EW]
Sony has released yet another clip from 22 Jump Street, in which the McQuaid "brothers" (Jonah Hill and Channing Tatum) encounter another pair of siblings (Keith Lucas and Kenny Lucas) in their new dorm.
There's also a new featurette, which is mostly about how great directors Phil Lord and Chris Miller are. Not that we needed convincing.
22 Jump Street premieres June 13. [via The Playlist]
Speaking of mismatched duos, there's a new trailer out for The Trip to Italy, a sequel to 2010's The Trip. Once again, Steve Coogan and Rob Brydon go on a culinary journey while driving each other nuts. Michael Winterbottom returns as director.
The Trip to Italy opens August 15 in the U.S. [IFC Films]
The Trailer Park Boys are at it again. Screen Media has picked up the U.S. rights to Trailer Park Boys: Don't Legalize It, a sequel to 2006's Trailer Park Boys: The Movie and 2009's Trailer Park Boys: Countdown to Liquor Day.
Based on the Canadian mockumentary series, which is currently prepping its ninth season, the new movie will follow the residents of the Sunnyvale Trailer Park as they try out get-rich-quick schemes. Trailer Park Boys: Don't Legalize It will hit VOD and theaters on September 5 in the U.S. [Deadline]
Robert Rodriguez blames "a lot of circumstance" for the lengthy wait between Sin City and Sin City: A Dame to Kill For. "We wanted to go right into it in 2007. We were going to make it right away," he explains. "But it really wasn't til everything aligned this time that we were able to do it. Suddenly, all the casting we ever could have wanted was available."
That said, he now believes the delay may have been a good thing. "It really was the perfect timing to wait that long and to shoot in native 3D and to bring some different tricks to the table."
As for what the new movie is about, star Joseph Gordon-Levitt has some thoughts.
[Sin City is] aptly titled. It's sort of a story about the worst in us as humans. The character I play is a guy that has a lot of admirable qualities but is just being dragged down by that desire for revenge, and revenge almost never leads anywhere good.
In fact, Gordon-Levitt points out, "He's driving right into Sin City, which is nowhere good to be." [EW]
With a title like Sin City, it'd almost be disappointing if the movie didn't attract some controversy. And indeed it has, thanks to Eva Green's cleavage. The MPAA apparently rejected the character poster below "For nudity – curve of under breast and dark nipple/areola circle visible through sheer gown." Appropriately enough, her one-line character description is "I've been especially bad."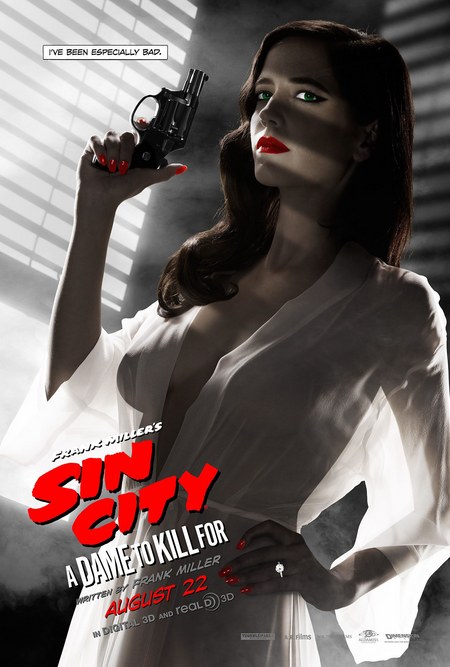 This, of course, is not a bad thing for a movie whose entire appeal is that it revels in the darkest, sexiest, most badass aspects of humanity. Now Dimension Films gets to release the poster on the Internet, with added buzz because it's been deemed too hot for the public. Well played.
Sin City: A Dame to Kill For opens August 22. [Page Six]
On the very opposite end of the scandalousness spectrum is the new poster for Dolphin Tale 2 — though if you want to be technical about it, there's actually way more nudity on display in this ad than there was in the Sin City one. Just sayin'.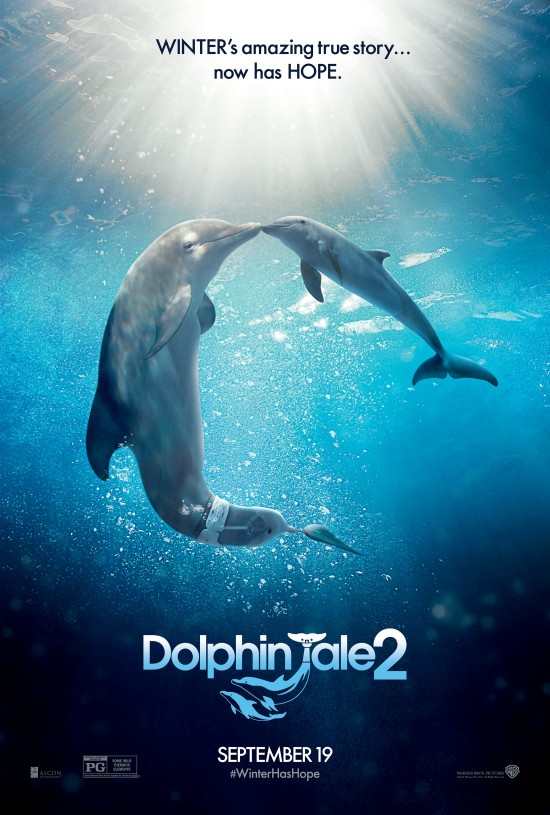 Dolphin Tale 2 opens September 19. The film stars Winter (the big dolphin) and Hope (the small one) as themselves, plus some humans including Morgan Freeman, Ashley Judd, and Harry Connick Jr. [Fandango]