POTD: 'The Wonder Years' Reunion For The Upcoming DVD Release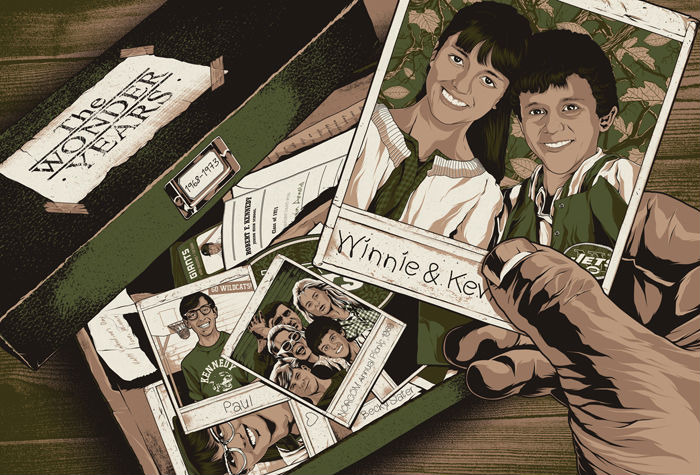 Fans have been waiting years for The Wonder Years to make it back into their homes. Since ending its run in 1993, the show played in reruns and finally appeared on Netflix last year. But even so, the original episodes with the original music have never made it to the DVD format. That changed recently when StarVista announced they'd be releasing the series the way it was intended in late 2014.
Since then, work on the set has apparently continued as several of the show's original stars – Fred Savage, Josh Saviano, Danica McKellar and Jason Hervey – took to social media Wednesday to post photos of a Wonder Years reunion. Check those out below.
Here are a bunch of photos from the Wonder Years reunion posted by various members of the cast. (Image above by Anthony Petrie for Gallery 1988.)
Wonder Years Reunion
FIRST LOOK WHOLE CAST! @thefredsavage @danicamckellar @joshsaviano #WonderYearsDVD #ComingSoon pic.twitter.com/0U2AOOiMFr

— Jason Hervey (@JasonHervey) May 29, 2014
The Arnold family #WonderYearsDVD pic.twitter.com/C8sZT79bHb

— Josh Saviano (@joshsaviano) May 28, 2014
#WonderYearsDVD pic.twitter.com/fno1jH81Nv

— Josh Saviano (@joshsaviano) May 29, 2014
It seems the shoot was for a documentary that'll be included on the DVD set, discussing the history and filming of the show, as well as some other extras. Here's one more image from Savage's Twitter:
Here's a bit more on the DVD release from our previous story, which should be out by the end of the year.
Jeffrey Peisch, senior VP of entertainment programming and marketing for StarVista Entertainment/Time Life, said the following.
'The Wonder Years' has long been the most requested TV show yet to be released on DVD, and we're thrilled to have the incredible opportunity to bring this iconic show to its many fans. As we've done with many other classic TV shows, the series will be treated with the care and attention it fully deserves after all these years, with deluxe packaging, robust extras and a lot more. We're really big fans of the series, too.
Songs secured include the theme song as well as tracks from The Beatles, Bob Dylan, Smokey Robinson, Joni Mitchell, Van Morrison and others.
StarVista has set up the website WonderYearsDvds.com to give fans updates.
Additional reporting: The Wrap