A Boba Fett Movie Could Look Like This [Star Wars 1313 Concept Art]

When it was announced that Godzilla and Monsters director Gareth Edwards would be directing a Star Wars spin-off written by Gary Whitta due out December 16, 2016, the press release cleverly didn't say what the subject of this film is. Recently, however, it was suggested one of the first three films would be about infamous bounty hunter Boba Fett.
It got me wondering: LucasFilm has a ton of concept art for a Boba Fett prequel story already created sitting in their vaults. Even if they start from scratch on a story, the concept art from their abandoned Star Wars 1313 video game project could easily be inspire scenes in the rumored big screen movie. What could a Boba Fett movie look like? Lets take a look at Star Wars 1313 concept art.
Disclaimer: Before you read any further, the concept art images compiled in this piece are not new. They have been floating around the Internet for some time now (although a lot of them never made it on /Film until now). I just thought now was a good time to revisit them and wonder "what if?"
The Star Wars 1313 Backstory
Before Disney purchased Lucasfilm and Star Wars, LucasArts was working on a new M-rated video game titled Star Wars 1313. You probably read about it in 2012, when the game was revealed at E3 that year. When LucasArts showed off the gameplay, it featured an unidentified bounty hunter navigating the underworld city of Level 1313 of Coruscant, using fast paced combat, centered around human skills and tech-based weapons instead of Jedi force powers. What gamers didn't know at the time, LucasArts was secretly making a game which was focusing on the earlier years of bounty hunter Boba Fett.
Once the Disney acquisition was announced, The Walt Disney Company ceased internal development at LucasArts and laid off most of its staff. Disney had decided it would be better to license the Star Wars brand out to game publishers, "minimizing the company's risk while achieving a broader portfolio of quality Star Wars games."
They made a deal with Electronic Arts, and while they can also develop Star Wars titles internally at Interactive Studios, they let the Star Wars 1313 trademark lapse at the end of 2013. But not renewing the title, the United States Patent and Trademark Office considers the trademark abandoned — so its very unlikely we will ever see that title again in any official capacity.
Star Wars 1313 Concept Art
But the concept art created for Star Wars 1313 is owned by LucasArts and LucasFilm, and could easily be used for inspiration for a prequel Boba Fett movie. My only objection is that a lot of this art might be to dark and grungy for a Disney film, but if you think about it — a Boba Fett has to get its hands dirty in a story about his uprising as a bounty hunter and that story would likely be set in the underworld, which is not a pretty place.
The art you are about to see is probably only a sliver of the art created for the game. Some of it was officially released by LucasArts to tease the dark underworld setting of the game pre and post E3, while other images were released by the artists on their portfolio pages and discovered through video game site explorations over the last couple years.
The following concept art comes from Gustavo Mendonca's own portfolio site: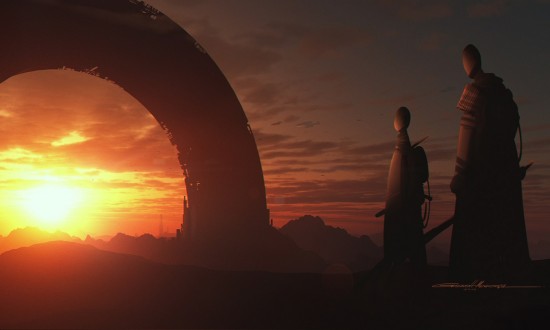 Much more concept art on the next page, along with some more information on the Boba Fett prequel story which was going to be the core of Star Wars 1313.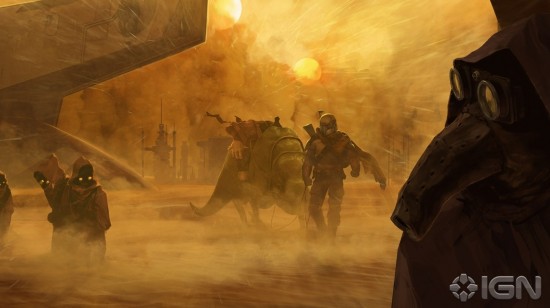 IGN later got to experience a 15-minute demo of Star Wars 1313 which would have debuted at E3 2013. That included Boba Fett in action. The game was to begin with a prologue on Tattooine, and follow a young Boba Fett as he served crime boss Jabba the Hutt. While he would begin the story with his father's iconic helmet and a basic outfit, his armor would evolve and progress throughout the game, eventually coming into the classic Mandalorian armor and jetpack we know from the original films.
Fett would also end up in layer 1314. While 1313 is a corrupt metropolis controlled by crime families, 1314 is a rarely-explored slum that has been shrouded for years in complete darkness. Part of the story of Star Wars 1313 would have seen Fett fighting his way through layer 1314 in search of his bounty. ... The main thrust of our demo saw Boba Fett chasing a Trandoshan through a sprawling marketplace in level 1313. As Fett chased after his target, he ran through several storefronts, including a sort of butcher shop that featured sliced-open Tauntauns hanging from the rafters. The crime families of 1313 were using these Tauntauns to smuggle spice to other planets, a plot point that our source tells us would have been central to Star Wars 1313's story. ... Behind Fett is a droid companion that would have fought alongside him as his partner. We're told that this droid would eventually have betrayed Fett, but that early in the game they fought side-by-side.
Here is some more demo images and concept art from IGN:
Here is some more officially released concept art showcasing the Blade Runner-like slum atmosphere of the Coruscant underworld city: