'The Simpsons' Debuts New Character In Mobile 'Tapped Out' Game Rather Than TV Show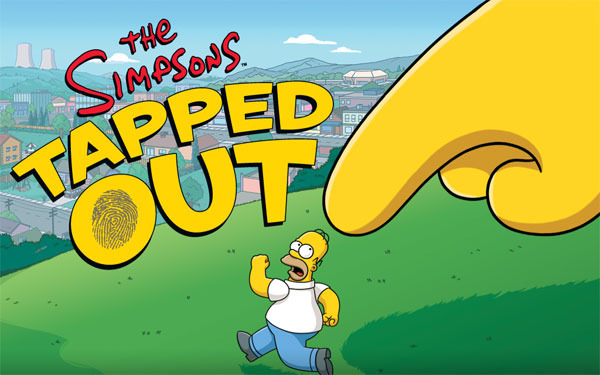 The Simpsons has a history of making history and, last week, it quietly did it again. In a world populated with hundreds of recognizable characters, the franchise introduced a brand new one. Not on TV, but in the popular mobile game The Simpsons Tapped Out. His name is Chester Dupree and he's the unemployed slacker brother-in-law to everyone's favorite laughing doctor, Julius Hibbert. Read more about this below.
Here's a photo of Chester. He came with the Level 41 update.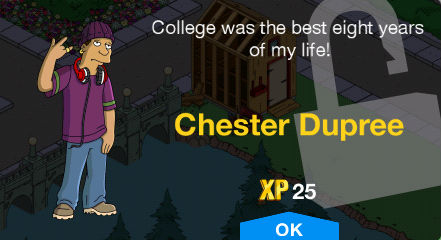 According to The Simpsons Wiki, Chester was briefly mentioned in a 2012 episode called "Gone Abie Gone." He wasn't on screen, however, so this is the first time anyone has seen the character.
For anyone not clear on the lineage, Julius Hibbert is the resident physician in Springfield and his wife, Bernice Dupree, is a bit of a snob. That explains Chester's slacker attitude. They've both been on the show for sometime.
In the multimedia world we live in, this kind of quirky incentive for Simpsons fans to play both the game and watch the show isn't necessarily new. A few months back, Tapped Out debuted a character named Kumiko in the game, but she quickly appeared on the show that week. In fact, the game fairly regularly does episode tie-ins where players can get items related to upcoming episodes. What makes Chester unique, though, is he's the first character introduced specifically for the game. Plus, he's permanent. Kumiko was only available for a short while.
Now – does that mean we won't see him on the show in The Simpsons' upcoming 26th season? The Simpsons writers are usually very guarded with upcoming story lines, though the Judd Apatow episode will likely air this year. If I had to bet though, I'd imagine Chester shows up this year. He's a fun, well-designed character and his permanent status in the game suggests he's important.
Do you play Simpsons Tapped Out? Does this kind of cool addition make you more interested in it?
Read more about Chester, and Tapped Out in general, over on Tapped Out Daily. It's my favorite site for Tapped Out news.