'The Strain' Trailer: "They're All Dead"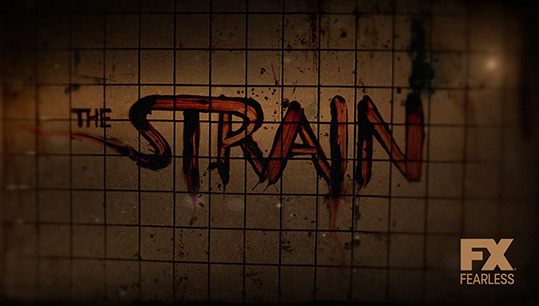 Here's a full trailer for The Strain, the FX show which adapts the novel series by Guillermo del Toro and Chuck Hogan. The pilot was directed by del Toro, and debuts in July. Corey Stoll (House of Cards and Midnight in Paris) stars as a doctor who begins to investigate a virus which effectively creates vampires. But there seems to be more going on than that, as the combo of the "he is here" tagline and a big hooded monster promises. Check out The Strain trailer below.
There's not enough here to really get a sense of what the show will be like, but visually the footage is encouraging, and there's a great potential for horror. As has been the case when del Toro took on classic supernatural monsters in the past, the vampires here don't seem to be of the conventional type, and there's a good bit of visual flourish in some of the monstrous visions.
And there are some other names to look out for: David Bradley (Harry Potter) plays a collector of artifacts and "hunter of ancient evil" Professor Abraham Setrakian; and Kevin Durand, Mía Maestro, Sean Astin, Frances Capra, Anne Betancourt and Richard Sammel will show up, too. 
The Strain debuts on Sunday, July 13 on FX. Trailer via Del Toro Films.
A plane lands at John F. Kennedy International Airport with lights off and doors sealed. Epidemiologist Dr. Ephraim Goodweather (Stoll) and his team are sent to investigate. On board they find two hundred corpses and four survivors. The situation deteriorates when the bodies begin disappearing from morgues. Goodweather and a small group of helpers find themselves battling to protect not only their own loved ones, but the entire city, from an ancient threat to humanity.