Duncan Jones' 'Warcraft' Has Wrapped Production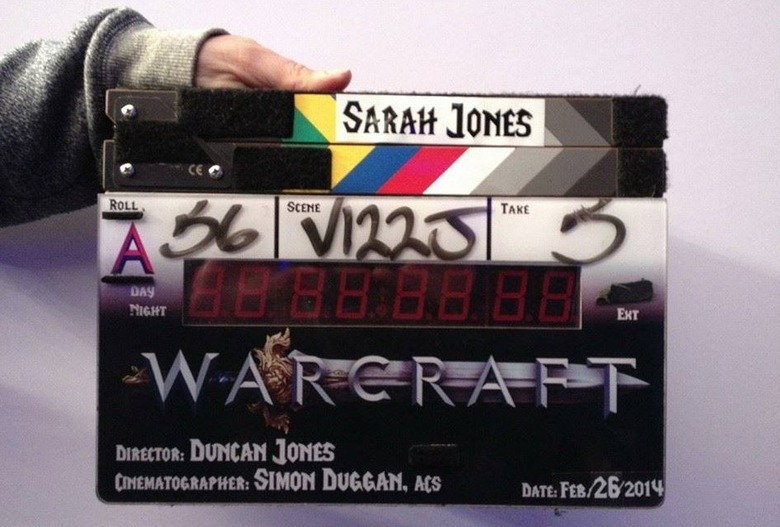 In a few years, we're going to look back at May 2014 as a truly amazing time in geek movie making. Right now, Avengers: Age of Ultron, Star Wars Episode VII, Batman v Superman: Dawn of Justice, Terminator 5, Jurassic World & Fantastic Four are all filming. Most of those are movies fans never in a million years thought they'd see made. To have them all shooting simultaneously is pretty remarkable.
Another film that certainly belongs on that list is Warcraft, Duncan Jones' adaptation of the ultra popular video game series. The difference between Warcraft and the rest though are most of those other sequels and adaptations are just starting their filming. Warcraft has now completed production after a substantial four-month shoot. It's scheduled for release March 11, 2016, which means a mountain of post production can now begin.
Director Duncan Jones revealed the Warcraft movie filming finished via his Twitter account:
Final day on Warcraft now officially... wrapped!! Off to bed for 3 hours before a meeting in the AM. Goodnight/good morning twitter!

— Duncan Jones (@ManMadeMoon) May 23, 2014
reports the shoot was 123 days long.
Besides the length of the shoot, what's truly impressive is that we know so very little about this film Jones has been shooting this movie for so long. Only
made it into the world. We don't know the overall story (save for the fact it's obviously influenced by the Warcraft games), we don't know the roles
members of the cast are playing
, and 
while we saw something at Comic-Con
, we don't know the full vision of the movie.
And maybe that's because, unlike some of the other movies mentioned earlier, Warcraft is less under the microscope. Jones is creating a whole new live-action world. A world that isn't based on another filmmaker's vision. Which is good because Warcraft comes out after every single movie mentioned about (save for Batman v Superman). That's a lot of time to hone and perfect the project and the more time, the better. Jones will not be rushed, unlike some others.
Warcraft was filming primarily in Vancouver, British Columbia, Canada. The film has a cast which includes Ben Foster, Travis Fimmel, Paula Patton, Toby Kebbell, Rob Kazinsky, Dominic Cooper, Daniel Wu and Clancy Brown. The script was written by Charles Leavitt and rewritten by Duncan Jones. Warcraft is set to be released in 2D and 3D on March 11th, 2016.