/Film Interview: Michael Fassbender Chats 'X-Men: Days Of Future Past', Plus James McAvoy And Patrick Stewart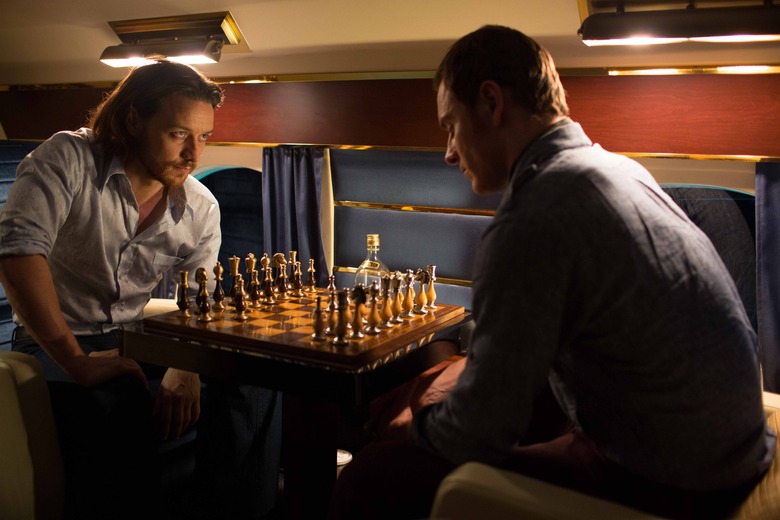 James McAvoy and Michael Fassbender had huge shoes to fill when they joined 2011's X-Men: First Class. Not only were they tackling beloved characters, they were taking them over from iconic actors Patrick Stewart and Ian McKellen. Nevertheless, they managed to make the roles their own in that film — only to face their predecessors in the new sequel, X-Men: Days of Future Past.
Indeed, a whole bunch of classic X-Men returned for the movie. Within the narrative, that was because Ellen Page's Kitty Pryde had powers that made time travel possible; within our own reality, that was because writer Simon Kinberg took on the challenge of bringing a classic comic book storyline to the big screen.
During a press event in New York, I had the chance to speak with both Professor Xes, one of the Magnetos, a Kitty Pryde, and the guy who tied all their storylines together. Watch our conversations after the jump.
Old-school X-Men Stewart and Page talked about the experience of returning to the franchise — and their hopes of doing it again.
Kinberg has been with the franchise for some time himself, having penned X-Men: The Last Stand. Which, as he readily admits, wasn't his finest work. He told me what he wished he could change about that film, what cultural and pop cultural '80s touchstones X-Men: Apocalypse might hit upon, and what JFK's super-secret mutant power might be.