Gareth Edwards Directing First 'Star Wars' Spin Off Film, Due December 16, 2016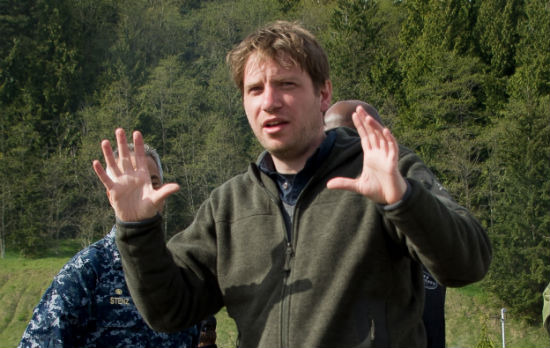 Godzilla director Gareth Edwards has just been hired by Disney and Lucasfilm to direct the first Star Wars spin-off film. The script is being written by Gary Whitta and the movie will be released December 16, 2016. This was confirmed on Star Wars.com.
It also means we won't see Godzilla 2 until well after 2016. Edwards is still attached to that film as well as a Godzilla 3.
The Hollywood Reporter first broke this massive news. Originally they said there's no word on which of the three unannounced films but then Star Wars.com added the following:
In addition to the episodes of a new Star Wars trilogy, Lucasfilm and Disney have begun development on multiple stand-alone movies that will offer new stories beyond the core Saga. Gareth Edwards will direct the first stand-alone film, with a screenplay by Gary Whitta. The film is due out December 16, 2016.Gareth Edwards blazed into the filmmaking forefront with his acclaimed work on Monsters, a film he wrote, directed and served on as cinematographer and visual effects artist. The skill and vision readily apparent in Monsters earned him the high-profile spot directing this year's smash hit Godzilla."Ever since I saw Star Wars I knew exactly what I wanted to do for the rest of my life – join the Rebel Alliance! I could not be more excited & honored to go on this mission with Lucasfilm, said Edwards.Gary Whittas screenwriting credits include 2010s The Book of Eli starring Denzel Washington. He is also well known as a journalist and editor in the video game industry, as well as part of the BAFTA award-winning team on Telltale Games adaptation of The Walking Dead.Whitta states, "From the moment I first saw the original movie as a wide-eyed kid, Star Wars has been the single most profound inspiration to my imagination and to my career as a writer. It is deeply special to me,so to be given the opportunity to contribute to its ongoing legacy, especially in collaboration with a film-maker as talented as Gareth,is literally a dream come true. I'm still pinching myself."
What's most interesting about this is, months ago, Lucasfilm and Disney confirmed Simon Kinberg and Lawrence Kasdan were writing the first two spin off films. With Gary Whitta coming on board, a few things may have occurred. Either those movies got pushed back or someone dropped out. It could be Kinberg, because of the demanding commitment he recently made to 20th Century Fox and their Marvel franchises. Or, Kasdan is just so busy on Episode VII and Kinberg is so busy on Fox stuff, those movies are merely going to be released in 2018 and 2020.
Also, the Star Wars press release cleverly doesn't say what the subject of this film is, but recently it was suggested the first three films would be about Boba Fett, Han Solo and Red Five. Kasdan and Kinberg were expected to be writing the first two, so there's a chance Solo and Fett get bumped back. We'll surely find out more specifics in the coming months.
Also, the Hollywood Reporter story states while Edwards is attached to direct Godzilla 2 and Godzilla 3, those films are super-early in development and without a script. This script is most likely much further down the line, especially considering it now has a locked in release date one year after Star Wars Episode VII. Godzilla 2, therefore, won't be out until 2017 or 2018 at the earliest.
Big news huh? What do you think?
UPDATE: Whitta took to Twitter for a quick message:
My feed is slightly nutty right now. Can't keep up. Many thanks for all the kind words and well wishes. MAY THE FORCE BE WITH YOU ALL.

— Gary Whitta (@garywhitta) May 22, 2014
And the CEO of Legendary, Thomas Tull, issued the following statement to the Hollywood Reporter:
Gareth's filmmaking talent makes him one of his generation's most creative and visionary directors. The plan has always been for Gareth to direct a different film before we started on another Godzilla, but who knew it would a Star Wars installment? We have a great plan in store for Godzilla fans and I am looking forward to seeing Gareth's imprint on the Star Wars universe.
The company offered a congrats to the director as well: