Eli Roth Directing WEtv Demon Hunter Drama 'South Of Hell'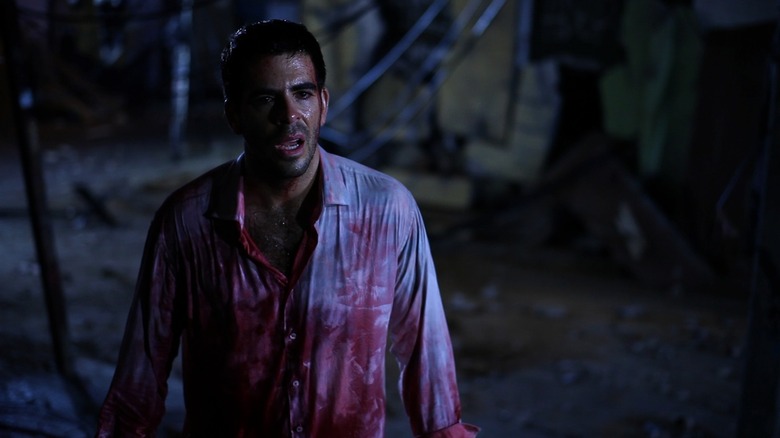 Last year, Eli Roth returned to feature filmmaking for the first time since 2007 with The Green Inferno. And he's now finishing up his next movie beyond that, the Keanu Reeves-starrer Knock Knock. But after that, it looks like he's headed back to the small screen.
Roth is set to executive produce and direct South of Hell, a WEtv horror series about a demon hunter struggling with a demon of her own. Not a metaphorical demon, mind you — an actual demon, with a name and everything. Horror hotshot Jason Blum and Dexter creator James Manos Jr. are also on board. Get all the details after the jump.
Manos, who wrote South of Hell with newcomer Matt Lambert, will serve as showrunner. Roth will helm the premiere as well as executive produce alongside Blum, Gerard Boacaccio (CBS' Moonlight), Gene Stein (Syfy's Alphas), and Stewart Till.
Roth explained his interest in the project:
I'm thrilled to be a part of South of Hell. Exorcism and possession stories have always fascinated me, and Matt Lambert has created an incredibly rich, original world in which to tell many stories of good, evil and everyone's own personal inner demons. I'm also honored to be working with Jim and Jason, both of whom I greatly admire. We want to create something smart and spectacular, and we are excited to be at the forefront of WE tv's new scripted series initiative.
South of Hell falls well within Roth's wheelhouse. He also executive produces and directed the first episode of Neflix's werewolf drama Hemlock Grove, which debuted last year. The second season of that series hits the streaming service in July.