'Clouds Of Sils Maria' Trailer: Juliette Binoche And Olivier Assayas Hit Cannes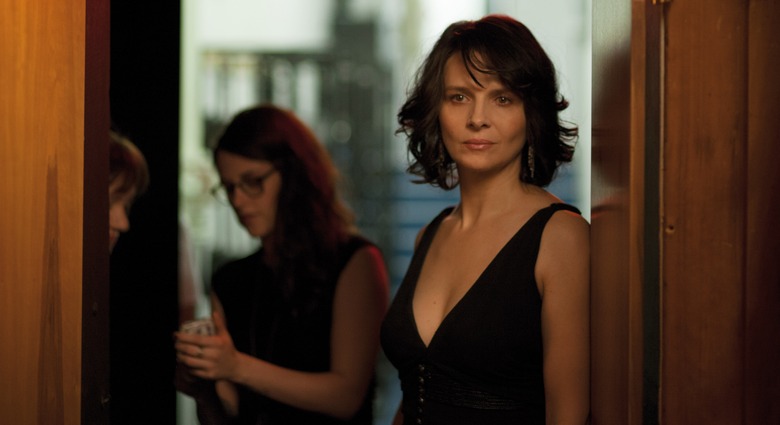 As nice as it was to see Juliette Binoche in Godzilla last weekend, we were disappointed to see that she didn't get nearly enough to do. Thankfully, she has a much meatier role in Olivier Assayas' Clouds of Sils Maria, which debuts at Cannes this week.
Binoche plays aging actress Maria Enders, who returns to the play that launched her career decades ago. But this time, instead of playing the sexy ingenue, she's playing the suicidal older woman. Chloë Grace Moretz stars as the self-absorbed starlet who's taken on the younger role, and Kristen Stewart is Binoche's assistant. Watch the Clouds of Sils Maria trailer after the jump.
[via The Film Stage]
Binoche and Moretz are in top form as always. Stewart tends to be more hit-or-miss, but she seems to be bringing her A-game as the bright, charismatic Valentine. Funnily enough, Stewart is not the only Twilight alum trying to shake up her career at Cannes. Her former love interest Robert Pattinson has two movies, David Michôd's The Rover and David Cronenberg's Maps to the Stars – playing there as well. The latter is also about an older actress struggling with the passage of time.
Clouds of Sils Maria opens this summer in France. No U.S. release date has been set as of yet.
At the peak of her international career, Maria Enders (Juliette Binoche) is asked to perform in a revival of the play that made her famous twenty years ago. But back then she played the role of Sigrid, an alluring young girl who disarms and eventually drives her boss Helena to suicide. Now she is being asked to step into the other role, that of the older Helena.
She departs with her assistant (Kristen Stewart) to rehearse in Sils Maria; a remote region of the Alps. A young Hollywood starlet with a penchant for scandal (Chloë Grace Moretz) is to take on the role of Sigrid, and Maria finds herself on the other side of the mirror, face to face with an ambiguously charming woman who is, in essence, an unsettling reflection of herself.