Star Wars Bits: John Boyega And Daisy Ridley Travel To Set; Plus New Cast Members, Harrison Ford, Drew Struzan And Posters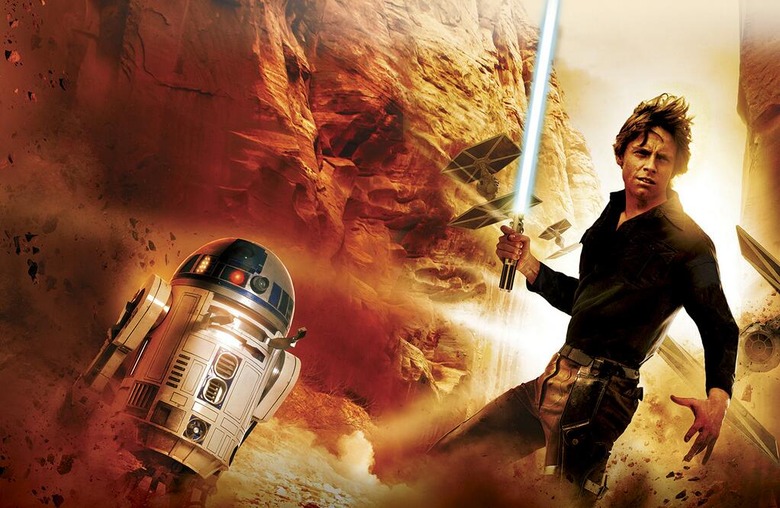 Star Wars Episode VII is filming and you can see the stars on set, find out about the shoot, read about rumors, buy posters and so much more in this edition of Star Wars Bits. Below, read about the following.
Watch Harrison Ford talk about Star Wars Episode VII.
Young musicians The Healer Twins filmed a small scene in Star Wars Episode VII.
John Boyega and Daisy Ridley are filming in the Abu Dhabi desert, watch them travel to set.
Read a story about how Episode VII ended up in Abu Dhabi.
You can win some super limited edition Star Wars Episode VII merchandise.
Speculate about the potential Obi-Wan granddaughter role.
Drew Struzan addresses the rumors of him doing the Episode VII poster.
Potential Episode VII characters have been spotted in Iceland.
Marvel's Star Wars comics could be coming later this year.
See new Star Wars posters from Mark Englert and Mark Hamill's son, Nathan Hamill.
UCB is hosting The Star Wars Expanded Universe Funeral Celebration.
Header image: The full book jacket for Heir to the Jedi by Kevin Hearne, art by Larry Rostant. It'll be out from Del Ray in January.
Here you can see Harrison Ford, doing foreign press for The Expendables 3, talking about being excited for Star Wars Episode VII. Thanks to Star Wars Underworld.
Two young musicians, Thea and Liana Shengelaya, better known as The Healer Twins, posted on their Instagram that they had been filming for a few days in Abu Dhabi. Then JediNews asked them about it, and well, here's the exchange: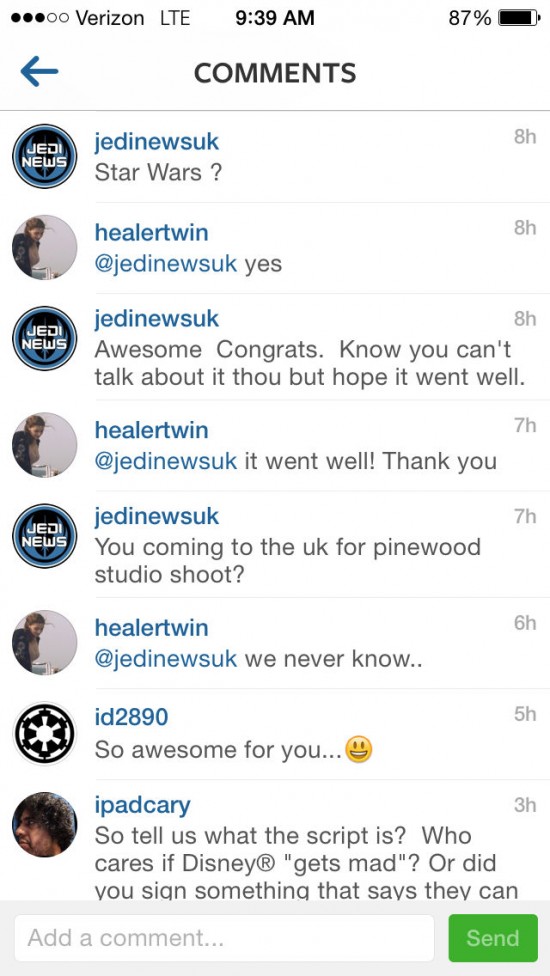 Two female twins who only shot for four days? Sound like they are extras or maybe have one line or so. But add two more names to the cast list.
Speaking of actors filming in Abu Dhabi, John Boyega is filming there. How do we know? The actor is all over his Instagram posting videos, photos and more from the desert. Interesting that Lucasfilm and Disney is allowing it. Here's just one example and yes, the girl in front of him is reportedly Daisy Ridley. (Note: Are they they only two stars on set? Seems like their roles are undoubtedly linked).
Variety has a really good article giving all the details how the Star Wars Episode VII production ended up in Abu Dhabi. Filming is expected to happen there for about three weeks.
Of course, we got our first look at the above Abu Dhabi sets in the J.J. Abrams video announcing the Omaze contest to raise money for charity by offering up a trip to the set of Star Wars Episode VII. Largely lost in the conversation was the staggering amount of awesome collectables that Omaze is offering in addition to the grand prize. Signed scripts, limited concept art, private screenings, it's all really cool stuff. Head here to check it out.
There's been lots of speculation about Maisie Richardson-Sellers potentially playing the granddaughter of Obi-Wan Kenobi in Episode VII. Many have wondered where that rumor came from and Star Wars 7 News has a piece talking about that speculation.
The rumors of Drew Struzan being asked to do the Star Wars Episode VII poster once again bubbled up earlier this week. Ain't It Cool News had the luck of an interview taking place at the same time (about Temple of Doom – it's great) and Struzan himself brought up the rumor. It's kind of a long back and forth, but here's the main quote:
I have to tell you what I'm telling everybody else: when I know, you'll know
After tweeting about this, Pixar animator @cathicks mentioned this is odd because, "At CTNAnim expo last year he said the opposite." Meaning he said he was approached. I think he probably has.
While it has yet to be confirmed, it's pretty probable some members of the Star Wars Episode VII crew have been shooting in Iceland. Whether its just helicopter shots or a full second unit, we don't know. But Bleeding Cool found a report that says Chewbacca and Stormtroopers might have been seen in the country. Read more there.
Marvel is taking over the Star Wars comic books in the future. We just don't know exactly when. The Hollywood Reporter now thinks, though, it could come as early as September because of a few clues in the Dark Horse release schedule.
A few cool new Star Wars poster are going up for sale in the next few days. First up, did you miss that amazing Mark Englert Luke Skywalker Star Wars poster a few weeks ago? Well Acme Archives is releasing two variants as timed released beginning Sunday. For 77 hours starting at 10 a.m. May 25, you can get either the Tatooine, Endor or both versions of the poster. Here are the images and click here for more information.
Then, Nathan Hamill (Yes, Mark's son) is releasing this cool print called "My Father, My Lord." It's a 12 x 25 inch giclee and goes on sale Friday May 23 at noon PST. Click here for more info.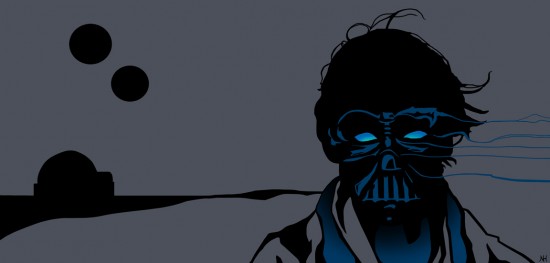 Finally, do you live in Los Angeles? The Upright Citizens Brigade is hosting the The Star Wars Expanded Universe Funeral Celebration, a comedy show with a serious geeky spin. Click here to get tickets and read more.