Cool Stuff: 22,000-Piece Avengers Lego Helicarrier Design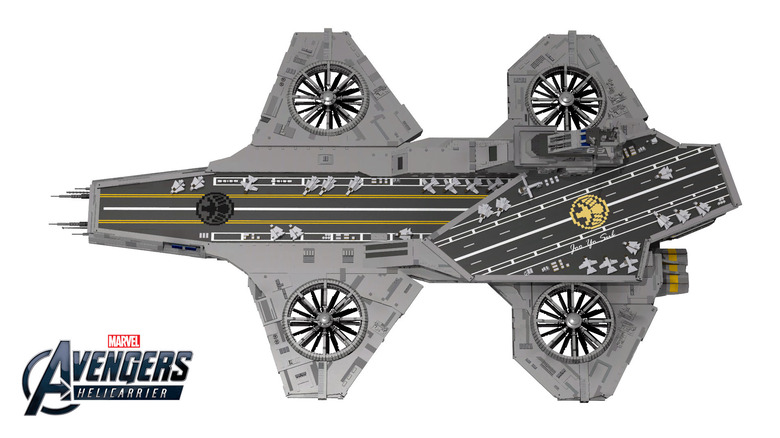 The largest Lego set of all time is a recreation of the Taj Mahal. It comes in at a whopping 5,922 pieces and when it was released cost $300. So, by that cost equation, if the latest Lego Ideas creation receives 10,000 votes, and is approved and distributed, it could cost upwards of $1000.
A Lego builder has created a beautiful version of the Avengers Helicarrier, made out of 22,694 pieces. Check out more images of the build below and find out how you can pitch in to try and make the Lego Helicarrier a reality.
Thanks to Lego Ideas (via Nerd Approved) for the images. There are far more shots at the original link.
Here's how the builder describes the set:
The total span of the ship was about 217 x 115 cm (= 85.4 x 45.3 inches) and a total of 22,694 bricks were used. The basic frame was made with Technic brick and Connector Peg. I used SNOT (Stud Not On Top) method to form the exterior of the ship with SNOT-outs and SNOT-ins. As it was done on LDD and SNOT method was used a little too much, a few modifications might be need for a real model. In addition, durability has to be strengthened. Lastly, as I did this job on LDD extended mode, I used many bricks with colors that were not available today.
Lots of Lego jargon there, but here's some non-Lego jargon. Like all Lego Ideas (formerly Cuusoo) pieces, if this gets 10,000 votes, it then will be reviewed by Lego. Once every few months, Lego reviews all the Ideas that get 10,000 votes and decide to manufacture one.
Previous sets that made the cut include the still-available Back to the Future set and the upcoming Ghostbusters Ecto-1 set. Will the Avengers Lego Helicarrier become a reality? I think it has a better chance than most of the sets that go through the Lego Ideas process. It's a license Lego already has and it's a huge, beautiful ship. I imagine they'd make it with somewhat fewer pieces though.