Jim Henson's Creature Shop Not Involved With 'Star Wars 7'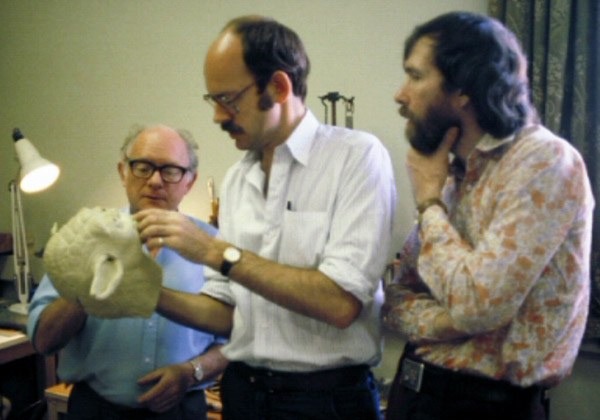 Yesterday morning when JJ Abrams posted a video from the Abu Dhabi set of Star Wars: Episode VII, everyone got excited about the appearance of an alien creature which walks by the filmmaker as he makes his charity pitch. Of course, Star Wars is synonymous with alien creatures, but the reason for the excitement was the practical, puppeteered nature of the new alien.
He's not a computer animated thing, akin to the aliens we saw in the Star Wars prequels. The creature's inclusion in this early video is deliberate — a message that we're doing something more like the original trilogy than the prequels. It recalls the statement last summer by Lucasfilm president Kathleen Kennedy that "We're going to use every tool in the toolbox." Many of us who grew up in the 1970s and 1980s were taken back to the days of Jim Henson and practical movie magic. I mean, how cool was that creature?
Some readers noticed the similarities between the new Star Wars alien creature and puppetted creatures created by Jim Henson's Creature Shop. Most specifically, fans have noticed a striking similarity between the Old Junk Lady from Labyrinth and the new creature, as the puppets are very close in design.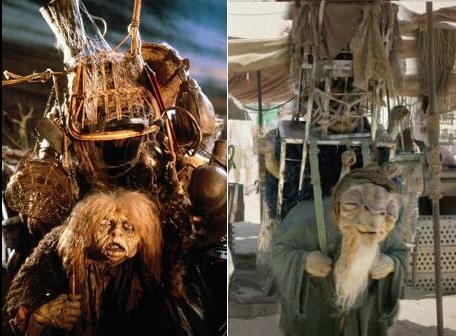 So is Jim Henson's Creature Shop working on Star Wars: Episode VII?
Nope. I was able to get a denial from The Jim Henson Company, which said that while they and the Creature Shop are not directly involved in the production, their puppeteers are independent contractors and could be involved. We also contacted LucasFilm yesterday but they have yet to provide any more information on the creatives behind this new creature design and puppet operation.
We must also remember that Jim Henson, The Jim Henson Company and the Jim Henson's Creature Shop never officially worked on the original Star Wars films — but there are still many connections between the films and Henson.
George Lucas told Leonard Maltin that he originally approached Jim Henson to work on Yoda for The Empire Strikes Back:
"I went to Jim [Henson] and said, 'Do you want to do this?' And he said, 'Well, I'm busy, I'm doing this, and doing that, I'm making a movie and all that — I really can't, but... how about Frank? You know, Frank's the other half of me.' And I said, 'Well, that'd be fantastic.'"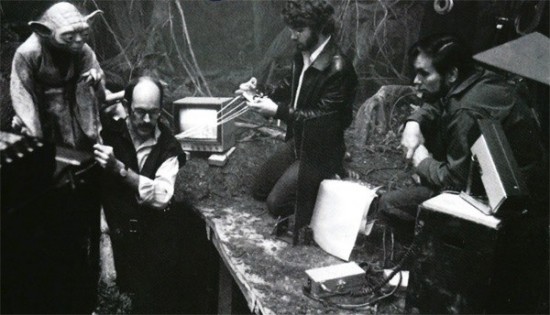 The Yoda puppet was originally designed and built by Stuart Freeborn for LucasFilm and Industrial Light & Magic. Frank Oz explained the character's creation in further detail to IGN:
"...Jim came to me and said Gary Kurtz, who was co-producer of The Empire Strikes Back, had a character and I think they asked Jim first – but with running a company and everything he couldn't do it, so he recommended me.... From then on, I was the one who kind of put all the elements of Yoda together, and although Jim didn't make Yoda, George [Lucas] and he had an understanding that they would exchange technology information. George would give to Jim and Jim would give some of his people to George to help. Wendy Froud helped out a little bit with the character and two other people from Jim's company worked the cables for me."
As you know, Frank Oz performed Yoda in The Empire Strikes Back, Return of the Jedi, and even The Phantom Menace. (Before Lucas retconned Yoda into a fully CG creation.)
While Jim Henson and his company were not officially involved in the Star Wars films, the Yoda puppet was built with the help of veteran Henson designers, such as Wendy Froud, who later became the center of Jim Henson's Creature Shop. That shop was created for Henson's later fantasy films The Dark Crystal and Labyrinth, the latter of which George Lucas served as an executive producer. The original workshop location was at Elstree Studios, which was also used for the filming of the original Star Wars movies.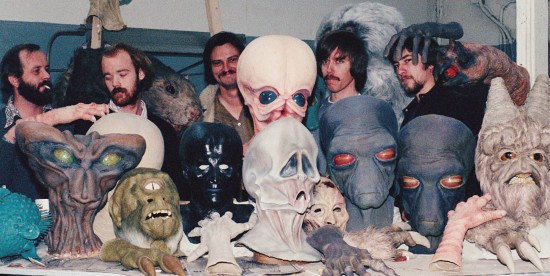 Is Rick Baker Involved With Star Wars 7?
I also wonder if legendary makeup artist Rick Baker is back for Star Wars: Episode VII. Baker served as second production unit make-up artist for Star Wars Episode IV: A New Hope and created many of the aliens in the Mos Eisley Cantina sequence.
As the now-infamous story goes, department head Stuart Freeborn became ill, so George Lucas called on Rick Baker to help embellish the Cantina scene which was not living up to the filmmaker's vision. Baker repurposed a bunch of his old monster masks for the scene (the horned alien  was originally a devil mask created by Baker for a Halloween show) and Baker also played (uncredited) the roles of Figrin D'an and Hem Dazon in the Mos Eisley Cantina.
Rick Baker has said as recently as November 2013 that he'd like to return for the new trilogy. "So much of the stuff I did in the first Star Wars was very quickly done," he said. "Nobody knew that Star Wars was going to be Star Wars."
It would be fitting to have Rick Baker return to create some practical alien masks for Star Wars Episode VII. Also we know that Baker's daughter has been employed by Bad Robot for some years now, so there is a personal connection to the company. But the real question is – Could Baker have been involved in the alien creature seen in the JJ Abrams video? Unlikely but we don't know.