'Jackass Presents: Bad Grandpa .5' Trailer: Now With More Spike Jonze And Catherine Keener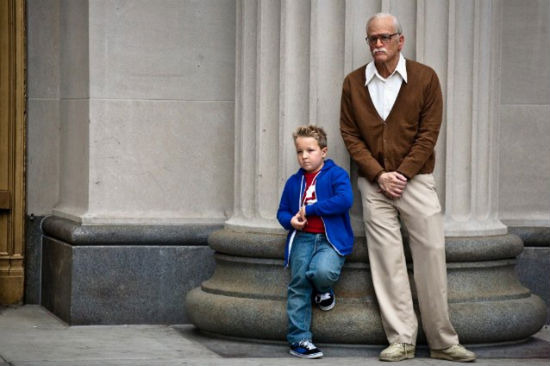 To date, Jackass Presents: Bad Grandpa is the only Jackass movie with a plotline, and the only one to be nominated for an Oscar. But one way it doesn't differ from the other Jackass movies is the amount of footage shot for it.
Like Jackasses 2 and 3, Jackass Presents: Bad Grandpa had enough leftovers for a not-quite-sequel, dubbed Jackass Presents: Bad Grandpa .5. Featuring Oscar nominee Catherine Keener and Oscar winner Spike Jonze, the new film arrives in just a couple of weeks. Today, we have the first Jackass Presents: Bad Grandpa .5 trailer. Watch it after the jump.
Johnny Knoxville was almost unrecognizable as the wildly inappropriate Irving Zisman. Keener and Jonze (who co-wrote the screenplay) are equally transformed by their makeup jobs, though indie film fans may still recognize Keener's distinctive voice. Keener plays Zisman's first wife Ellie, and Jonze his new companion Gloria.
In a statement, Knoxville gushed about the new film.
So many hilarious scenes and pranks didn't make it into Bad Grandpa because they didn't make sense for the story — I'm talking five-star bits that were painful to cut from the movie. You'll get to see them all in BAD GRANDPA .5 and maybe some stuff we shouldn't show you. You know how we always joke we have no clue what we're doing? Well, when you see the 'window up, window down' behind-the-scenes footage on BAD GRANDPA .5 you'll know we aren't lying. Amazing. Can't wait till you see that and the whole damn movie.
Jackass Presents: Bad Grandpa .5 hits digital outlets on June 3 and Blu-ray/DVD on July 8. Want even more Bad Grandpa? The Blu-ray will include "over 40 minutes of additional footage including a roundtable discussion with Johnny Knoxville, Spike Jonze and director Jeff Tremaine about the evolution of Irving Zisman, a series of pranks gone bad, outtakes and more."