First 'Whiplash' Clip: J.K. Simmons Smacks Around Miles Teller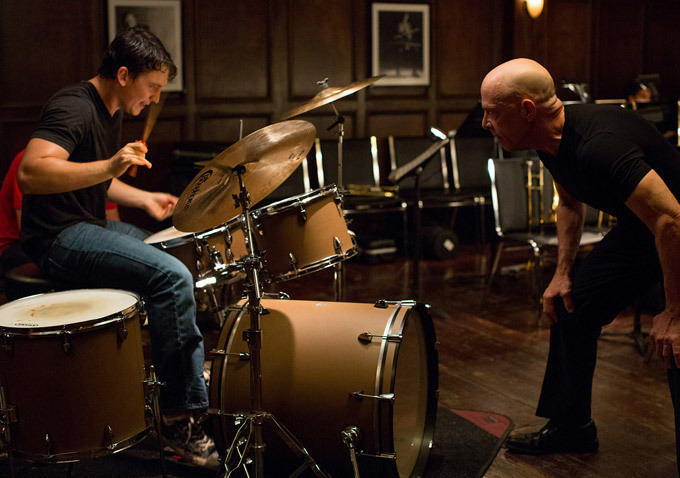 Traditionally, when a movie wins either the Grand Jury and Audience Dramatic Awards at Sundance, it's meant for big things. Then there are some really special films that win both. Precious and Fruitvale Station are two recent examples. This year's Sundance opener Whiplash is another.
Directed by Damien Chazelle, Whiplash tells the dramatic story of Andrew (Miles Teller), a highly ambitious young drummer who finds himself under the wing of the most demanding, intimidating and influential music teacher in the country. That's Terence Fletcher, played by J.K. Simmons. Those dueling passions sets up a battle of the wills as Andrew tries to prove himself for Fletcher, hoping he doesn't have to face the frightening truth that he's just not good enough.
You can read Russ's Sundance review here, but in lieu of a trailer for the October 10 release, the first Whiplash clip has now made it online. In it, you'll get a sense of the film's incredible tension and powerful performances.
Thanks to Sony Pictures Classics (via Playlist) for the Whiplash clip:
You're going to be hearing lots more about Whiplash as its fall release date approaches. Sony Pictures Classics has a crowd-pleasing, awards contender on their hands with the film and it's sure to make lots of year end lists. It's really, really good.
Here's a bit more detail from the Sundance website. What did you think of the Whiplash clip?
Andrew, a promising 19-year-old drummer at a cutthroat Manhattan music conservatory, has little interest in being just a musician. Haunted by his father's failed writing career and plagued with the fear that mediocrity just might be genetic, Andrew dreams of greatness. Determined not to follow in his father's footsteps, he practices daily until his hands literally bleed. The pressure of success ratchets into high gear when he is picked to join the school band led by the infamous Terence Fletcher, a brutally savage music instructor who will stop at nothing to realize a student's potential. Under Fletcher's ruthless direction, Andrew begins to pursue perfection at any cost—even his humanity.
Sprung from his 2013 Sundance Film Festival award-winning short film, Whiplash is the brilliantly realized feature that writer/director Damien Chazelle always intended to make. Driven by fierce, searing performances from Miles Teller as Andrew and J.K. Simmons as Terence Fletcher, Whiplash crescendos to a blistering climax that will rattle audiences long after the lights come up.