'Get On Up' Trailer #2: Even Superstars Have Family Issues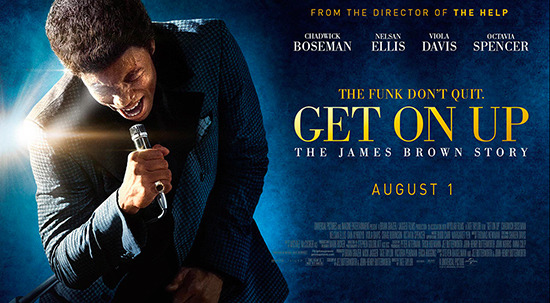 James Brown tells you who he is in this new trailer for the biopic Get on Up. Either a short theatrical trailer or a long TV spot, this look at the film opens with Brown (Chadwick Boseman, 42) talking about his parents, and we flash through some moments of success before coming back around to a heated conversation between mama and her son. Much of this footage is the same as what we saw in the first trailer, but there's definitely some new stuff, and a different emphasis, and additional voiceover. Check out the Get on Up trailer 2 below.
In general, I think this plays better than the first trailer, but it still seems to sell a down-the-middle biopic. If that's what you're after, then Get on Up is going to be just the ticket.
Get On Up was written by Steve Baigelman, Jez Butterworth & John Butterworth, and Tate Taylor. It hits theaters on August 1. Apple has the trailer.
In his follow-up to the four-time Academy Award®-nominated blockbuster The Help, Tate Taylor directs 42's Chadwick Boseman as James Brown in Get on Up. Based on the incredible life story of the Godfather of Soul, the film will give a fearless look inside the music, moves and moods of Brown, taking audiences on the journey from his impoverished childhood to his evolution into one of the most influential figures of the 20th century. Boseman is joined in the drama by Viola Davis, Octavia Spencer, Nelsan Ellis, Lennie James, Tika Sumpter, Jill Scott and Dan Aykroyd.