Drew Struzan Rumored To Return For 'Star Wars Episode VII'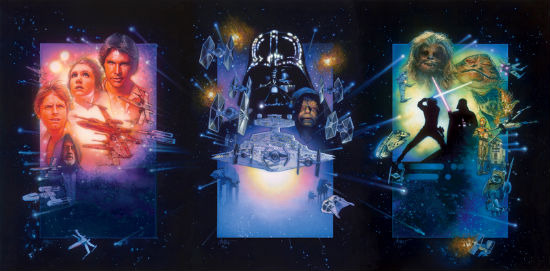 Poster artist Drew Struzan may have "retired" not long ago, but he still does the odd piece of work here and there. Some of Struzan's most famous posters are for the Star Wars films, and with Star Wars Episode VII in production there has been plenty of reason to assume he'll do a new one-sheet for the JJ Abrams continuation of George Lucas' saga. Now the rumor that will be the easiest one to accept this week says that Struzan will indeed do a new Star Wars poster.
SchmoesKnow claims that Abrams has asked Struzan to do a new poster and that the artist is interested in doing the job.
We have consistently heard that Abrams is trying to establish stylistic and tonal consistency with the original trilogy wherever possible. Having Struzan in board to help advertise the film would not do anything for the film itself, but would provide a continuity of image from the prior movies to the new.
And the people we've talked to this afternoon, while not in a position to confirm our ddeny the rumor, have said that Struzan failing to make a new poster would be more surprising than seeing him come out of retirement.