'Transformers: Age Of Extinction' International Trailer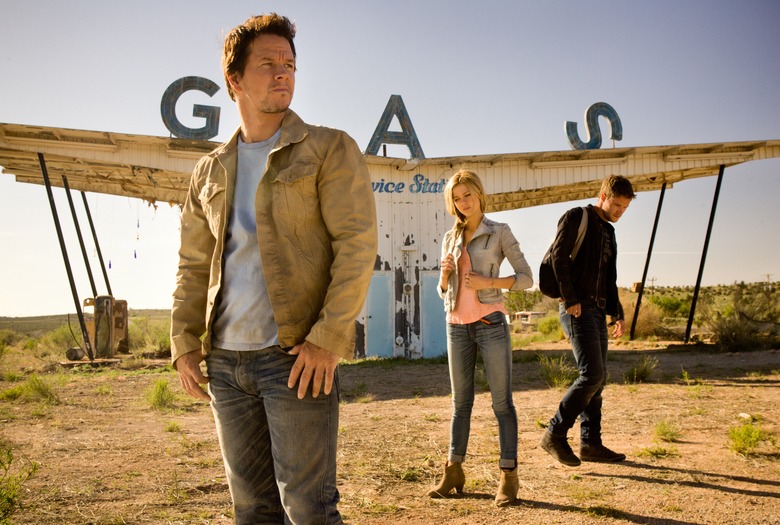 Hot on the heels of the new Transformers: Age of Extinction domestic trailer, we have the new Transformers: Age of Extinction international trailer. This one places slightly more emphasis on the humans who get caught up in the alien robot saga, including Mark Wahlberg's Cade Yeager and his daughter Tessa (Nicola Peltz).
Not too much, mind you. This is still a Transformers movie, so the focus is still on all the dino-robot-alien action. But enough to add some humor to the proceedings. Check it out after the jump.
[via CBMTrailers]
The trailer looks pretty fantastic, honestly. It's silly and cool in all the right measures, with good-looking leads and even better-looking explosions. But the Transformers franchise has never struggled to put together exciting trailers. Whether the full-length movies actually hang together is another question. On that front, the jury's still out. For now, let's just enjoy the crazy space dinosaurs.
Transformers: Age of Extinction arrives June 27. Michael Bay returns once again to direct. Jack Reynor, Stanley Tucci, and Kelsey Grammer also star.
TRANSFORMERS: AGE OF EXTINCTION is the fourth film in director Michael Bay's global blockbuster franchise. Mark Wahlberg, Stanley Tucci, Li Bingbing , Kelsey Grammer, Sophia Myles, T. J. Miller, Nicola Peltz, Jack Reynor and Titus Welliver star. The film begins after an epic battle that left a great city torn, but with the world saved. As humanity picks up the pieces, a shadowy group reveals itself in an attempt to control the direction of history... while an ancient, powerful new menace sets Earth in its crosshairs. With help from a new cast of humans, Optimus Prime (voiced by Peter Cullen) and the Autobots rise to meet their most fearsome challenge yet. In an incredible adventure, they are swept up in a war of good and evil, ultimately leading to a climactic battle across the world.