David Lowery To Direct Benedict Cumberbatch In 'The Yellow Birds'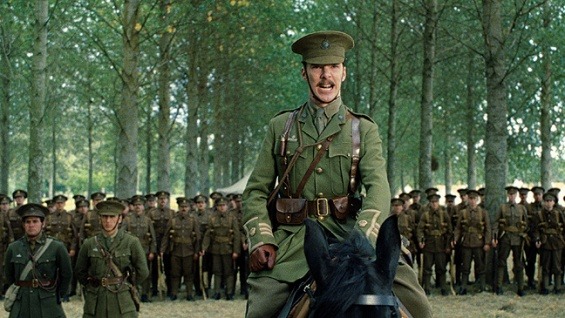 Ain't Them Bodies Saints director David Lowery is on a huge roll, with directorial attachments and screenwriting gigs coming out of the woodwork since the Sundance 2013. He's writing and likely directing Pete's Dragon, has a possible reunion with Casey Affleck in the project Two, and seems to have plenty of other projects brewing, such as The Old Man and the Gun with Robert Redford, and an adaptation of the graphic novel Torso. Now Lowery has been set to direct Benedict Cumberbatch in The Yellow Birds.
The film will be an adaptation of the novel by Iraq War veteran Kevin Powers. The book follows two men who are sent to Iraq, and the bond between them as one, slightly older, tries to protect his younger comrade.
Screen Daily reports the news, saying that Courtney Solomon and Mark Canton's Cinelou Films just doubled it's financing deal with Shenghua Entertainment, leaving Cinelou with $100m to spend on ten films. The Yellow Birds has been greenlit as a result, meaning that it could happen sooner rather than later. Will it be Lowery's next film? Difficult to say. He also scripted.Tye Sheridan and Will Poulter will play the leads, with Sheridan taking the role of the younger soldier, and Poulter the elder. Cumberbatch will play their Sergeant.
Here's an account of the novel:
"The war tried to kill us in the spring." So begins this powerful account of friendship and loss. In Al Tafar, Iraq, twenty-one-year old Private Bartle and eighteen-year-old Private Murphy cling to life as their platoon launches a bloody battle for the city. Bound together since basic training when Bartle makes a promise to bring Murphy safely home, the two have been dropped into a war neither is prepared for.
In the endless days that follow, the two young soldiers do everything to protect each other from the forces that press in on every side: the insurgents, physical fatigue, and the mental stress that comes from constant danger. As reality begins to blur into a hazy nightmare, Murphy becomes increasingly unmoored from the world around him and Bartle takes actions he could never have imagined.
With profound emotional insight, especially into the effects of a hidden war on mothers and families at home, The Yellow Birds is a groundbreaking novel that is destined to become a classic.