'How To Train Your Dragon 2' Early Buzz: Solid Reviews For Animated Sequel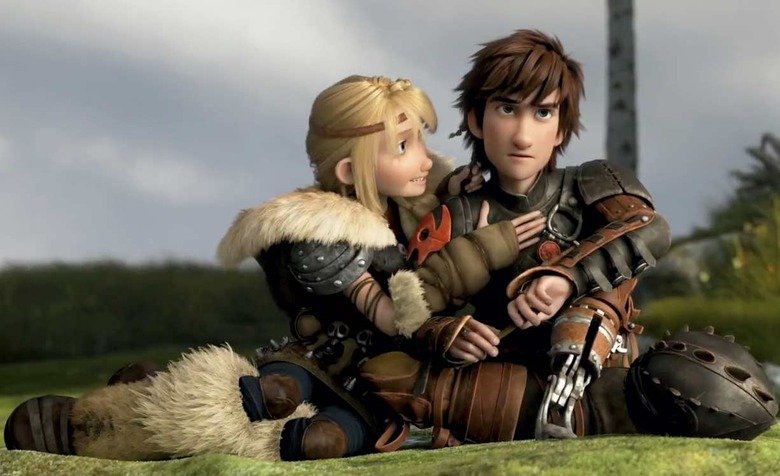 One of the biggest and most anticipated films of the summer, How to Train Your Dragon 2, premiered at the Cannes Film Festival Friday. It was the first public screening of the sequel, which continues the story of Hiccup (Jay Baruchel) and Toothless in the kingdom of Berk. Buzz around the project has been solid but now that respected critics from around the world have seen the film, is it as good as we all hoped? The answer is...mostly.
Below read some early How to Train Your Dragon 2 reviews.
Here are a few excerpts of reviews from various outlets, followed by a few tweets too:
Variety:If you think training Vikings to coexist with dragons sounds tough, try following up an iconic coming-of-age story within the halls of a publicly traded animation studio. The pressures to make a giant four-quadrant monstrosity must be enormous, and yet, like his unflappable hero Hiccup, "How to Train Your Dragon 2" writer-director Dean DeBlois has prevailed, serving upDreamWorks Animation's strongest sequel yet — one that breathes fresh fire into the franchise, instead of merely rehashing the original. Braver than "Brave," more fun than "Frozen" and more emotionally satisfying than so many of its live-action counterparts, "Dragon" delivers. The Telegraph:With Disney in the ascendant, DreamWorks are struggling to keep pace, and there's nothing here that can hold a candle to that studio's recent trio of perfectly peachy princess pictures, which culminated last year (and is still culminating, really) in the wonderful Frozen.But the action sequences here are armrest-gripping fun, and you only wish DeBlois and his animators had been even more confident; held their shots even longer; allowed us to enjoy the whistle of the wind and the curve of the dragons' flight paths without hurriedly cutting away to another angle, and another, and another. When the film flies, it soars.Total Film:Darker, more emotionally complex and with suitably upped spectacle, it's easily DreamWorks' most mature and accomplished film yet. Like its predecessor (in which Hiccup and Toothless were both maimed during the finale) this is a universe that has real stakes and consequences, and as such the emotional gutpunches are all the more affecting.That's not to say it's in any way all doom and gloom – as with its predecessor, How To Train Your Dragon 2 nails the grin and envy-inducing wonderment of living in a world in which you can become besties with an adorable cat/dog-like pet dragon.The Playlist:How To Train Your Dragon...took an unpromising premise and turned it into something funny, exciting and emotionally satisfying in a way that relatively few of their films are.And now it has a sequel, "How To Train Your Dragon 2." The bad news is that it's more of a "Kung Fu Panda 2" than a "Toy Story 2" in terms of animated sequels, but the good news is that it's still a fairly decent film, if a decided step down from its predecessor....Few fans of the original are likely to be truly disappointed, and the film is certainly in the top tier of the studio's output. It's just a shame that it doesn't quite have the same beating heart as its predecessor.HitFix:With this second film in the series, Dean DeBlois (who both wrote and directed the movie) has turned this into the most exciting overall property that DreamWorks has, live-action or animated. The film has an immediate confidence, and they don't spend much time trying to explain the first film. This is a sequel that has its own story to tell and that gets right down to it, and it expands on the ideas from the first film, but in a way that tells a thematically satisfying and complete story. In other words, this is how franchises are supposed to work.The Hollywood Reporter:...Ultimately this installment, despite its breath-sucking spectacle, is sometimes more of a taxing assault course than a playful training session. Crowded with incident, frame-edge details and extra characters and considerably scarier and more traumatic to boot, it may prove all a little too rich for the youngest of film-goers, that key demographic which has kept the franchise fresh in the memory since 2010 through repeated viewings (endlessly repeated, some parents might report) on home entertainment platforms.
Finally, a few tweets from fellow bloggers:
How to Train Your Dragon 2 opens June 13.