Watch Newly Restored 'A Fistful Of Dollars' Outtakes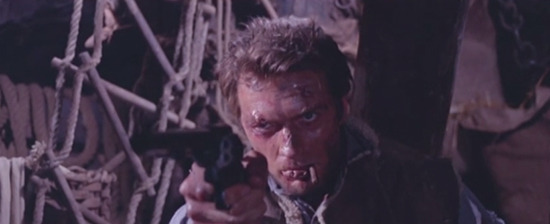 The Cannes Film Festival will close this year with a presentation of a restoration of Sergio Leone's 1964 film A Fistful of Dollars. (Released in the US in early 1967.)  The movie, an uncredited remake of Yojimbo, turned Clint Eastwood into a movie star and made the spaghetti western the hottest genre going. Quentin Tarantino will present the film at Cannes, but even if you can't attend that show we've got a good treat, in the form of some newly discovered and restored A Fistful of Dollars outtakes.
The Cineteca di Bologna and Unidis Jolly Film (the original producers and distributors of the movie) were behind the restoration. The Hollywood Foreign Press Association and Martin Scorsese's Film Foundation also helped out. As part of the process of restoration, some outtakes from the film were discovered and restored. Cineteca has now put them online. Watch below.
There's not a lot of material here, but finding anything from a 50-year old film is pretty significant. Most outtakes of this type would have been destroyed or dumped decades ago. So a four-minute window into Sergio Leone's working process may seem slight, but it's an opportunity we're happy to have. 
And it's fun to see this stuff, as when Clint Eastwood, who is meant to be playing seriously stoic and implacable, just can't manage his poncho thanks to some wind. And we also see the camera slates bearing the film's original title: El Magnifico Straniero, aka The Magnificent Stranger.