Cool Stuff: Scott C's 'Ghostbusters' Poster Gets Timed Release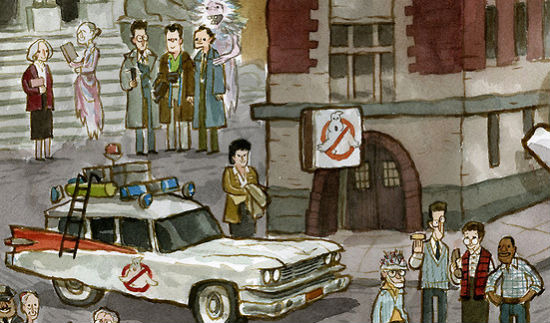 The two best words a casual poster collector can hear are "Timed Release." That means that for a certain amount of time anyone who wants a poster can order one; and the seller will print as many as are ordered. It's a rare occurrance, saved for only the most popular artists doing the most popular topics. The latest one totally qualifies.
Gallery 1988 just announced they'll be releasing Scott Campbell's gorgeous piece from the traveling Ghostbusters 30th anniversary show (coming to LA this week) as a timed edition giclee. Find out when it goes on sale below.
Here's the full version of the poster. Click to see it in high-res.
Scott C Ghostbusters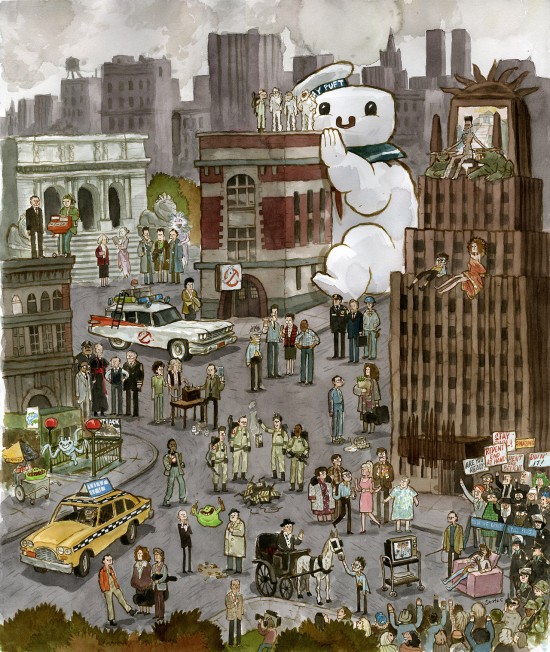 The 16 x 20 inch poster will go on sale at 9 p.m. PST Tuesday, May 27th and stay available through 9 p.m. PST Friday May 30th. It'll be on sale at www.gallery1988.com and cost $70.
Campbell has long been a /Film favorite, not only for his Great Showdowns but frequently collaborating with us on contests. In recent months however, his larger pieces like this have really begun to gain popularity. However, out of everything he's done, this Ghostbusters piece might be the most evocative. The way it combines so many iconic moments in the movie, with so many colors, and is packed with easter eggs is a thing of beauty.
To see more Ghostbusters 30th anniversary art, visit one of the three final stops on the traveling show. Here are the locations:
Ghostbusters 30th Anniversary Art Show: Los Angeles
May 17 – June 1st
Gallery 1988 (West), 7308 Melrose Avenue, Los Angeles, CA 90046
Opening reception: May 17 7-10 p.m.
Ghostbusters 30th Anniversary Art Show: Chicago
June 20-22
Rotofugi, 2780 N. Lincoln Ave., Chicago IL 60614
Then at San Diego Comic-Con, booth #1806.
Visit www.ghostbusters30th.com for more information on those shows, and check back here in the coming weeks for more information.
Will you be buying one of Scott C's pieces?