Exclusive Clip: Alejandro Jodorowsky's 'The Dance Of Reality'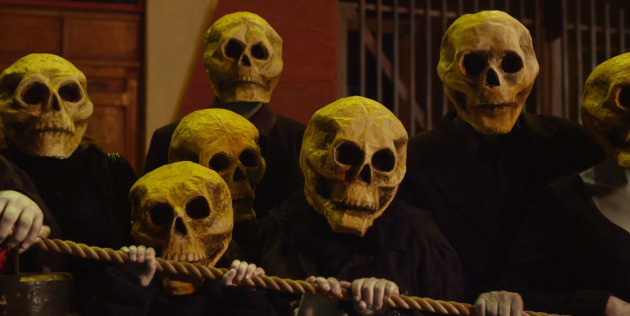 Alejandro Jodorowsky is back on movie screens this year, and that's a wonderful thing. The documentary Jodorowsky's Dune, chronicling the director's '70s attempt to film Frank Herbert's novel Dune, has been making its way through art house theaters for a couple months. And now The Dance of Reality, Jodorowsky's first film as a director in over 20 years, is about to open.
Below, we've got an exclusive clip from The Dance of Reality, showing a funeral procession that is among the stranger funerals we've seen, but also one of the most oddly appealing.
The Dance of Reality will be in theaters on May 23, first in NY and LA, then expanding to other markets. Get more info at the official site: http://danceofrealitymovie.com.
After a 23-year hiatus, The Dance of Reality marks the triumphant return of Alejandro Jodorowsky, the visionary Chilean filmmaker behind cult classics El Topo and The Holy Mountain. In the radiantly visceral autobiographical film, a young Jodorowsky is confronted by a collection of compelling characters that contributed to his burgeoning surreal consciousness. The legendary filmmaker was born in 1929 in Tocopilla, a coastal town on the edge of the Chilean desert, where the film was shot. Blending his personal history with metaphor, mythology, and poetry, The Dance of Reality reflects Jodorowsky's philosophy that reality is not objective but rather a "dance" created by our own imaginations.