New Yorkers Can Now Watch Movies From A Rooftop Hot Tub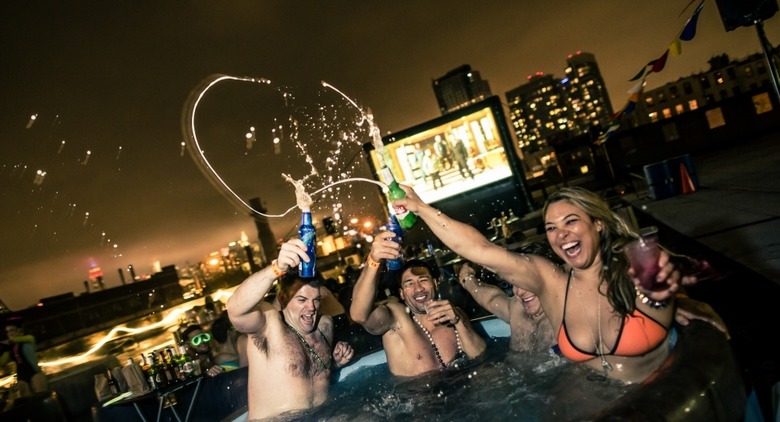 We've seen theaters try to entice moviegoers with big-name guests, luxe chairs, gourmet menus, specialty cocktails, and even etiquette ninjas. But this may be the first time we've heard of rooftop pool parties being brought into the mix.
A company called Hot Tub Cinema has begun hosting pop-up events in which — as their name suggests — movie lovers get to watch films from the comfort of a hot tub. Find out how you can attend after the jump.
New Yorkers are no strangers to unusual aquatic arrangements. A few summers ago, dumpster pools were all the rage. And Lord knows we love our outdoor screenings, as anyone who's ever tried to stake a claim at Bryant Park on a Monday night can attest. But until now, there haven't been many attempts to combine the two activities.
At the moment, tickets for Hot Tub Cinema aren't easy to come by. The event's New York debut sold out quickly and according to the NYDN there's already a 1,700+ waiting list for the next one, which has yet to be announced.
Nor are they cheap. But each $65 ticket gets you not just admittance to the movie itself, but also free popcorn and access to an open bar. Considering that regular movie ticket, a bucket of popcorn, and a few drinks at the corner bar could easily run you $40 or more in the city, that's not too bad.
Assuming, that is, that stewing in warm water with a bunch of scantily clad strangers for 100 minutes sounds like something you want to do in the first place. Introverts, germaphobes, and people who prefer to keep their clothes on will probably see Hot Tub Cinema as their own personal vision of hell.
The rest of you can get more information at HotTubCinema.com.