Offer Extended To Harrison Ford For 'Blade Runner' Sequel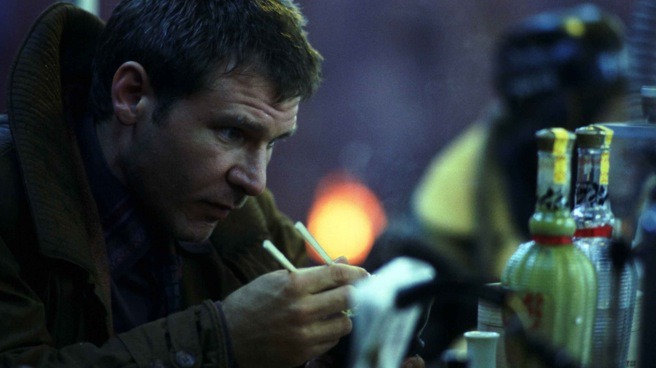 One question has bounced around since the news of a new Blade Runner film was first announced: will Harrison Ford take part, or won't he? Alcon Entertainment, which is producing the film, originally said "no." Ridley Scott said at one point that he didn't think Ford would star, but that he wanted him in the film. Now Alcon has made the the first half of a definitive statement by formally offering a role to Harrison Ford. The second half of that statement will be Ford's acceptance, obviously. But Alcon is making enough of a big deal out of the offer that the company probably already knows his answer.
A press release says "Warner Bros-based Alcon Entertainment ('Prisoners,' 'The Blind Side,' 'The Book of Eli') has an offer out to Harrison Ford to reprise his celebrated role of Rick Deckard in its Ridley Scott-directed sequel to Blade Runner." How big is the role? Will he star, or simply appear? We don't know, but if they want to shoot the movie this year, they'll have to work around Star Wars if Ford's role is envisioned as a significant one.
All that we know is that this film "takes place several decades after the conclusion of the 1982 original," and that Hampton Fancher (co-writer of the 1982 adaptation) and Michael Green are the screenwriters. Ridley Scott is directing.
Alcon principals Andrew Kosove and Broderick Johnson said "We believe that Hampton Fancher and Michael Green have crafted with Ridley Scott an extraordinary sequel to one of the greatest films of all time. We would be honored, and we are hopeful, that Harrison will be part of our project."
Alcon Entertainment has rights to produce prequels and sequels to Blade Runner; clearly this is the latter sort of story.