James Franco Blasts 'Spring Breakers 2'; See The First Teaser Poster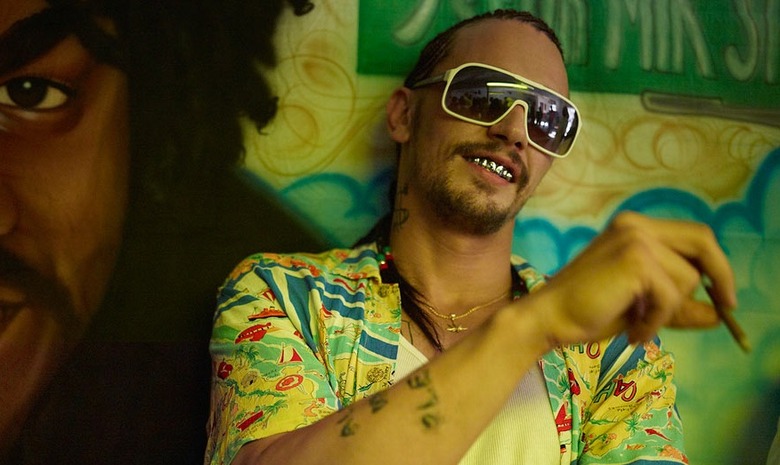 What's Spring Breakers without James Franco and Harmony Korine? We're about to find out, thanks to the Franco-free, Korine-less Spring Breakers: The Second Coming. And not surprisingly, Franco and Korine are none too thrilled about it.
The actor and the director have taken to social media to voice their displeasure about the upcoming film, which is being directed by Jonas Åkerlund and written by Irvine Welsh. But it's happening whether they like it or not, so we also have a first look at the new poster for the sequel. Check it out, and read Franco and Korine's comments, after the jump.
STATEMENT ABOUT SPRING BREAKERS 2: This is not being done with Harmony Korine or my consent. The original was wholly Harmony's creation and these producers are capitalizing on that innovative film to make money on a weak sequel. I want everyone to know that whoever is involved in the sequel is jumping on board a poison ship. It will be a terrible film, with a horrible reason d'être: to make money off someone else's creativity. Can you imagine someone making the sequel to "Taxi Driver" without Scorcese and DeNiro's consents? Insanity! I'm speaking up for Harmony and his original vision and for any creative person who cares about preserving artistic integrity.
Korine's response to the film (via The Film Stage) was shorter but no sweeter.

Franco's comparison to a Scorsese-less Taxi Driver may seem a bit overblown, but it's hard to blame him and Korine for feeling that way. However, we'll have to wait and judge the movie on its own merits. For now, check out the first teaser poster, spotted recently around Cannes (h/t Collider).