Jeremy Irons And Sienna Miller Climb Ben Wheatley's 'High Rise'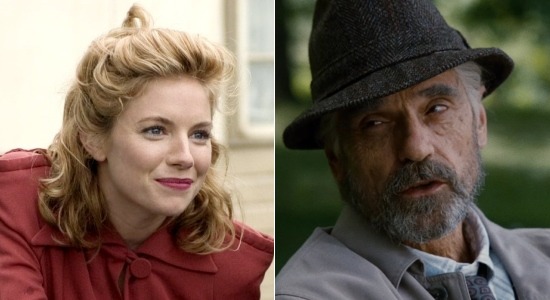 The J.G. Ballard adaptation High Rise has been kicking around for some time, but got fresh momentum last summer when Sightseers helmer Ben Wheatley signed on to direct. He cast the first star, Tom Hiddleston, a few months ago, and now he's added two more.
Jeremy Irons and Sienna Miller are set to join the project in two key roles. The cast isn't complete by any means, but this trio seems like a great start. Hit the jump for character details and more.
Hiddleston plays Robert Laing, a young doctor who moves into the building and is caught up in the conflict. Irons will portray Anthony Royal, the brilliant architect who designed the building, and Miller is Royal's assistant and Laing's love interest, Charlotte. Production on High Rise is set to get underway in Belfast this July.
Screen Daily has Wheatley's comments on his new stars. "I've been a fan of Sienna's since seeing her heartbreaking role in Factory Girl," he said. "There's a steely resilience in her performances, and I know she will be excellent in her central role in High-Rise." He added, "What can you say about Jeremy Irons? From Dead Ringers to Margin Call, Jeremy has been creating indelible performances. He's one of our finest actors and it's very exciting to work with him."
Miller is currently filming American Sniper with Bradley Cooper and director Clint Eastwood. Her other upcoming roles include Anna Boden and Ryan Fleck's Mississippi Grind, Ken Scott's Business or Pleasure, and Bennett Miller's Foxcatcher. Irons was cast earlier this year as Bruce Wayne's butler Alfred in Zack Snyder's Man of Steel sequel. He was last seen in the YA fantasy Beautiful Creatures.