Exclusive: Ken Taylor's 'Children Of Men' Poster Announces Mondo Solo Show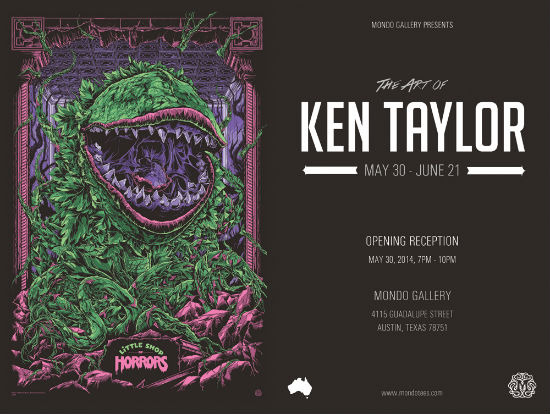 Few artists in the poster world are as in demand as Ken Taylor. The Australian artist is not only one of the most popular names on the Mondo roster, he does posters for many of the biggest bands touring today. Taylor's gorgeous, realistic, striking style has made instant collectibles of posters for Halloween, Alice in Wonderland, Man of Steel, Jurassic Park, and Breaking Bad. Now he's tackling even more.
Though Taylor had a paired show at Mondo last year, and triple at Phone Booth the year before that, on May 30, he's soon having his first solo show at the Mondo Gallery in Austin, Texas. The show, simply called The Art of Ken Taylor, will feature posters for lots of recognizable films, many of which Mondo has never tackled before.
To whet your whistle, we're excited to exclusively debut Taylor's poster for Alfonso Cuaron's Children of Men and also a take on Frank Oz's musical, Little Shop of Horrors. Read more about the solo Ken Taylor Mondo show below.
Here's our exclusive debut of the regular and variant editions of Children of Men:
It's a 21.5" x 36" screenprint in editions of 375 regular (grey) and 200 variant (red).
Next, here's Little Shop of Horrors, which was previously revealed at Mike Mitchell's Marvel show. We're debuting the variant though:
That's a 24" x 36" screenprint in editions of 350 regular (purple) and 175 (blue).
That's just the tip of the poster filled mountain with the Ken Taylor Mondo show, which'll be on display in Austin, 4115 Guadalupe Street, through June 21. Here's the official press release:
Mondo presents "The Art of Ken Taylor" for the next gallery show, running from May 30th through June 21st. The opening night event will be Friday, May 30th from 7 – 10pm at the Mondo Gallery, located at 4115 Guadalupe St. in Austin, TX. Artist Ken Taylor will be in attendance.
One of the most sought after artists in music & film, Ken Taylor is responsible for some of the most stunning imagery in Mondo's archive, often besting the original and undeniably great official artwork for classic films. Ken Taylor's previous Mondo artwork can be viewed here.
"Flying halfway across the world to exhibit my work for this amazing collector niche still blows my mind every day. This is the culmination of many months of hard work and stress (but more importantly, fun), and I can't wait to show it all," said Taylor.
The show will include prints for films that Mondo has never previously tackled before, including the two preview pieces for Children of Men & Little Shop of Horrors.
Melbourne based Illustrator & Designer Ken Taylor works primarily within the music industry and is predominantly well known for his striking rock posters. Ken started in Perth Western Australia doing posters and album artwork for local bands. In 2001 He moved to Melbourne and slowly started to create a name for himself within Melbourne's music scene. In 2006 he went out on his own and started to work full time on music-based artwork.
Ken has designed posters and album artwork for many Australian bands including You Am I & The Beasts of Bourbon & Crowded House. Internationally he has designed artwork for bands such Queens of the Stone Age, Metallica, Pearl Jam, Nine Inch Nails, Kings of Leon, Bob Dylan & The Rolling Stones. Over the past few years he has become very well known for his limited edition silkscreened movie posters, working through MONDO with some of the worlds biggest movie licenses. Ken has won the Desktop Create Award for Best illustration in both 2007 & 2009 and was a Guest Speaker at the 2009 AGIDEAS design conference, the 2011 Semi Permanent Creative Conference in both Melbourne and Perth and the 2012 Look Hear Conference in Newcastle. In 2012 he exhibited in Los Angles and then 2013 in Austin and was also part of SXSW Flatsock. Ken continues to work with bands both locally and internationally and is represented by Drawing Book.