Teaser Trailer: Disney's 'Frozen' On ABC's 'Once Upon A Time'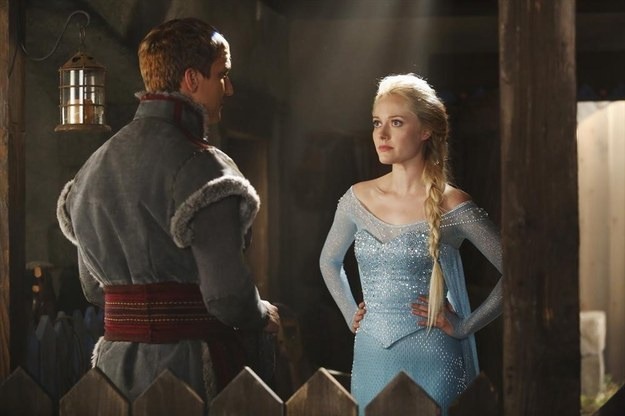 Update from Editor Peter Sciretta: ABC has released television spots offering us our first teaser of Disney's Frozen which will be entering the world of ABC's Once Upon A Time. Hit the jump to watch it now.
And here is a low quality look at Once Upon A Time Season 4 Frozen episode "A Tale of Two Sisters":
Here are some photos of Elizabeth Lail as Anna, Georgina Haig as Elsa and Scott Michael Foster as Kristoff:
Here is our original coverage:
In May, we learned that ABC's fairytale adventure drama series Once Upon a Time would be adding characters from the hit Disney animated film Frozen. Earlier this week we learned some of the actors who had been cast to bring these animated roles to the live-action small screen. Today we find out which actress will be playing the role of Elsa, the snow queen. The original story from Germain Lussier follows:
Georgina Haig has been cast as Elsa the snow queen for ABC's Once Upon A Time. Haig previously appeared in the movie The Sapphires and played Etta in the television series Fringe.
Newcomer Elizabeth Lail (photograph from here Google+ profile above) will play Anna, Queen Elsa of Arendelle's younger sister, while Scott Michael Foster (photographed below), of Greek, The River and Halt and Catch Fire, will play Anna's boyfriend Kristoff.
According to TVLine, here are the character descriptions for the Frozen characters in Once:
Anna is "a fun-loving, fearless optimist who often gets herself into situations where she is in over her head, yet is able to triumph due to her resourcefulness and can-do spirit. She values her relationship with her sister Elsa above all else."
Kristoff is "a hearty, salt-of-the-earth ice cutter whose sometimes-gruff demeanor can hide his deep love for Anna and her sister Elsa. When we first meet him on Once, he is adjusting to life at the castle — including sleeping indoors for the first time in his life."
The original story by Germain Lussier fromMay 12th 2014 follows:Frozen has already conquered the worldwide box office, the Billboard charts, the Oscars, and tested the durability of Blu-ray players everywhere. Next up, instead of a sequel or that planned Broadway musical, it's coming to TV.
At the very end of Sunday's season finale of ABC's Once Upon a Time, our new favorite Ice Queen Elsa was introduced to the story. Meaning, yes, Frozen is coming to television. Read more about the Frozen Once Upon A Time crossover here.
UPDATE: Showrunners Eddy Kitsis and Adam Horowitz confirmed Elsa won't be the only Frozen character showing up either.
The revelation first came on TV, quickly followed by the below tweet from the official Once Upon a Time Twitter account.
Get ready... pic.twitter.com/kAo7v99yBi

— Once Upon A Time (@OnceABC) May 12, 2014
Here's a quick clip of the actual scene. I recommend fast forwarding to 1:50 to minimize eye-rolling.
No actress has been revealed, but it's a tried and true TV tradition to end a season with the surprise introduction of a new character. Many times, that happens before the character is actually cast. One recent example? Michonne on The Walking Dead.
Besides that, this whole thing is weird for a ton of reasons. It's not weird in that it's great for buzz and to build an audience. We get that. But Elsa was a new creation for Frozen, not the Hans Christian Andersen fairy tale The Snow Queen the film was inspired by. To the best of my knowledge (and I've only watched the pilot of Once so that knowledge is admittedly thin), most of the fairy tale characters on the show are based in literature, not movies, though movies have been made about many of them. But yes, Disney has made many of those movies.
ABC is owned by Disney so the rights thing isn't an issue, but, it begs the question what's going on with the Frozen franchise? CEO Bob Iger said after just one movie, it's one of their top five franchises. Yet they've so far only said a Broadway musical adaptation is in the works and some theme park integration. They're being very careful with it. Whether or not a sequel will ever be made is up for debate, but bringing the Elsa character to TV does kind of fits that same pocket. Is this really the best way to represent the franchise?
We'll surely learn more over the summer as the next season of Once Upon A Time is cast and shot. But for now, there's lots to discuss below.
UPDATE: Showrunners Eddy Kitsis and Adam Horowitz spoke to Entertainment Weekly about the decision to bring Elsa onto the show and admitted she won't be the only character from the film. Here's an excerpt from the interview.
Does Elsa's appearance mean other Frozen characters are on the horizon?
Horowitz: Yeah — we'd be disappointed if Elsa was the only one we saw, but we're not quite ready yet to tell you who else we may encounter.I want to see Olaf hanging out with the dwarfs.Horowitz: We do enjoy Olaf.