Six New 'Transformers 4' Photos Reveal Upgraded Autobots Weapons; Plus New Poster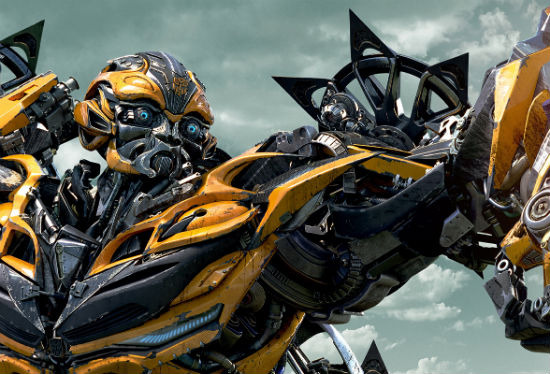 Three new Transformers 4 photos have been released and they finally let us zoom in on the Autobots. In Transformers: Age of Extinction, the transformers are in hiding after the public perception of them turns. This will surely change, though, once the Decepticons start to unravel a dastardly plot and the robots in disguise are needed to save the world.
In previous photos from the Michael Bay film, we've seen leader Optimus Prime with his brand new sword, but apparently his loyal soldier Bumblebee has a new gun too as well as some Chinese stars. Both are cool winks to classic toys that made the Transformers so popular in the first place.
Below, check out the new weapons and a lot more in the six latest Transformers 4 photos.
UPDATE: We've also uploaded a new poster.
Thanks to USA Today for these images. Click on the first two for nice hi-res versions.
New Transformers 4 Photos
In the USA Today article, director Michael Bay talks about why they upgraded Optimus Prime for the new movie: "It's like Batman with a new suit. We needed to change the look from top to bottom." Producer Lorenzo Di Bonaventura also commented: "The sword is emblematic of what we've done to Optimus as a whole. He's been upgraded with more abilities."
Also in the article, we get our best plot description of the film yet. Here's an excerpt:
Extinction is set three years after the devastating Battle of Chicago from the third film. There is a new location (Texas) and cast. Shia LaBeouf, the human anchor in the first three films, is gone.
Instead, Mark Wahlberg arrives as single father and cash-poor inventor Cade Yeager. Yeager and his daughter (Nicola Peltz), her young boyfriend (Jack Reynor) and comedic sidekick Lucas (T.J. Miller) get caught up in the Transformer world when Yeager buys a bullet-riddled truck to repair. He doesn't know it's actually Optimus Prime in hiding.
None of that's new, necessarily, but it's been hard to find an official description of what exactly is going to happen in the movie. This still doesn't make it perfectly clear but, it's something.
What do you think of the new designs and weapons in Transformers: Age of Extinction?
UPDATE: Empire also posted this new poster, via Latino-Review.