Dan Harmon Discusses The Future Of 'Community'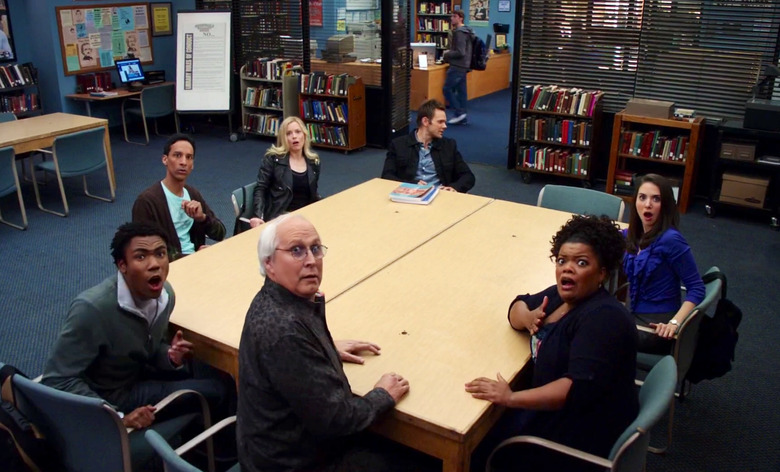 What will happen to Community now that NBC has finally canceled the show following its fifth season? There was talk not long ago that made a sixth season sound, if not inevitable, then at least like something that could happen on Hulu or a similar digital service. But over the weekend, a new report painted that possibility as something much less likely than we'd previously thought. Capping everything off, Community creator Dan Harmon weighed in with words about his thoughts on the chances of a continuation. So will there be a Community sixth season after all? Well.. maybe?
Let's go in order. First, Dan Harmon talked about the show's cancelation on his Harmontown podcast. During the edition taped at the Bridgetown Comedy Festival the day after the show was axed, he said, "We all know what happened yesterday, we all got drunk. I was in a place of grief. It'll take weeks to sink in."
Then Deadline weighed in today, saying, that while at least one company is interested in reviving the show for a sixth season away from NBC, it is Harmon who doesn't really want to carry on. Specifically, the site said it had heard Harmon "is ready to move on to other things, prepping Season 2 of his Adult Swim animated comedy Rick & Morty and figuring out his next project."
And that's easy to understand. After everything Harmon has gone through with Community, this might be a nice place to stop.
But Harmon has a lot more to say in a piece published after Deadline's, and in which he specifically avoids name-checking the site and its report. You should read all of his piece, because frankly it hits a few topics, and not in entirely linear fashion. But he does offer this, right in the middle:
I will confess, however, that when Sony called me on Friday with the news, there was brief discussion at the end of the call about the concept of the show living elsewhere, and I was definitely in the "eh" column. For a million reasons, some selfish, some creative, one logistic, five sexual, three racist (in a good way) and, oddly, nine isometric. I won't bore you with them. I mean, of course I will bore you with them. Boring you is my job, my hobby and my passion. But it doesn't matter right now WHY I'd be lukewarm or if my reasons would be valid, what matters is, I won't be lukewarm. I'll heat up. I said "eh" on a Friday afternoon, I will change it to a "sure, let's talk" on Monday morning and Sony can do their thing. I'm not going to be the guy that recancels cancelled Community.
One of his major points is that fans should relax and not let themselves be put in a position where they do the marketing for a sixth season. He also says "Anyway, I will not be standing in the way."
So where does that leave a sixth season? Difficult to say. It would be tough to pull off, as Harmon acknowledges in his post. But it isn't over yet — hopefully that will come as a relief, rather than providing more anxiety for the show's creators and cast.