Harrison Ford A 'Co-Lead' Of 'Star Wars Episode VII;' More Behind The Scenes Rumors Confirmed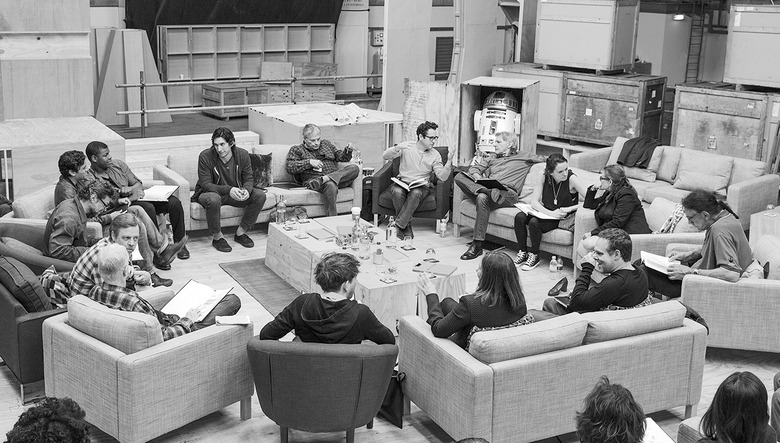 The latest issue of Entertainment Weekly has a great article about the Star Wars Episode VII casting news. In the article, "sources with direct information about the project who spoke on condition of anonymity" confirmed a bunch of behind the scenes tidbits we'd long since begun to take as fact. Primary among those is that Harrison Ford's Han Solo is considered a "co-lead" of the film, along with "three of the younger actors." Which of the three? We still don't know.
EW also confirmed casting is still ongoing, the main cast members have been attached for a while, re-writing Michael Arndt's script delayed production and more. Read the break down below.
The news comes from latest issue of Entertainment Weekly (the May 16th issue with The Normal Heart on the cover), written by fellow geek Anthony Breznican. Hat tip to Jedi News. Here's the breakdown.
Full casting began this January
"Several roles have yet to be filled, including a major female part."
"The initial Episode VII script penned by Michael Arndt has been significant over hauled by [director J.J.] Abrams and co-writer Lawrence Kasdan. That stalled the casting process, as characters and plot details shifted."
The main cast members – Mark Hamill, Carrie Fisher and Harrison Ford – were all slated to return before Disney bought Lucasfilm. George Lucas got them on board.
Luke, Leia and Han all have "significant roles."
And then, the bit about Solo being considered a co-lead along with three of the younger characters. All of those points have been reported on previously, but mostly as rumors. The inclusion here, confirmed independently by EW, all but locks them in as truth.
Since we don't know which of the three actors have the leads yet (educated guess: John Boyega, Daisy Ridley, final female to be cast), we can only speculate on Solo's role. I've heard speculation that he'd risen from Captain to the head of the Rebel Alliance. That sounds plausible. Or maybe he's embraced the ways of the Force while hiding his trademark skepticism, which leads his child to the dark side. (Remember – Expanded Universe isn't canon but it can be borrowed from.) Or maybe he and the three kids just happen to find themselves off on an adventure when it all hits the fan.
Honestly, the possibilities are endless, but I love the idea that by making Solo more of a lead role this time around, it could begin to shift the story from the Skywalkers to their extended family.
Are you surprised any of these previous statements ended up being true?