Reese Witherspoon And Sofia Vergara Team Up For Summer 2015 Buddy Comedy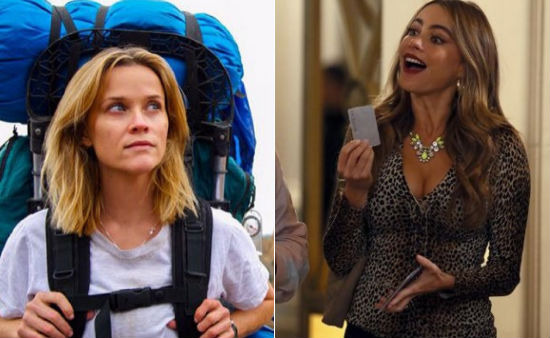 For a long time, the buddy action comedy was almost exclusively a male thing. Then, last summer, Paul Feig made The Heat and proved to Hollywood that a team of two women could be just as awesome and profitable. Next Summer we're getting a similar movie.
Reese Witherspoon and Sofia Vergara are set to co-star in a buddy action comedy formerly called Don't Mess With Texas. It's currently untitled. Anne Fletcher (The Guilt Trip, The Proposal) will direct from a script by David Feeney and John Quaintance. Filming starts this month and it'll be released May 8, 2015. Read more about the Reese Witherspoon Sofia Vergara movie below.
The Hollywood Reporter broke the news of the Reese Witherspoon Sofia Vergara project, which is a co-production between MGM and New Line. Warner Bros. will distribute. Here's the description:
The movie centers on uptight and by-the-book cop (Witherspoon) who is trying to protect the sexy and outgoing widow of a drug boss (Vergara) as they race through Texas pursued by crooked cops and murderous gunmen.
The idea sounds super commercial. As are both Witherspoon and Vergara, the former being an Oscar-winner with real box office clout and the latter a TV superstar who has previously been a movie bit player. What's most surprising about this film, though, is the speed with which it was put together. The script was first purchased last year over at Universal. They put it in turnaround in February and MGM picked it up. Throughout that process, it wasn't a project on many radars. Then today, it has two major stars, a major director and a prime summer release date one week after Avengers: Age of Ultron. That's impressive.
It's especially impressive when you realize how unique it is. The female driven comedy has seen something of a renaissance in the last few years but the a female action comedy is almost an enigma. You can probably count on one hand the amount of films that fit that bill: The Heat, Thelma and Louise, Set it Off, Charlie's Angels 1 & 2, probably a few others. But there aren't a lot. Hopefully this film, whatever it ends up being called, ends up being just as memorable as those films.
What do you think of this Reese Witherspoon Sofia Vergara film?