DC Comics TV Shows 'Constantine,' 'The Flash' And 'iZombie' All Officially Picked Up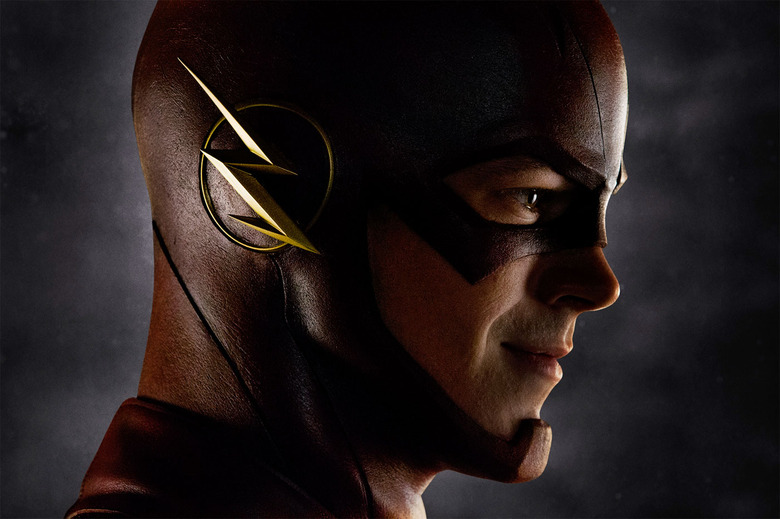 It's that time of year when the TV networks clear the crap off their channel and fill it up with new crap. The hope, of course, is the new crap sticks around and gains an audience. While we don't follow a lot of TV here on /Film, we do follow big comic book shows and three new DC Comics TV shows just got picked up. Two on The CW and another on NBC.
The first, and most obvious, is The Flash, the Arrow spinoff starring Grant Gustin as the iconic DC Comics speedster. Then there's iZombie, Veronica Mars' creator Rob Thomas's adaptation of the Vertigo comic. Then, over on NBC, Constantine, starring Matt Ryan as a supernatural detective, got picked up too. All three DC Comics TV shows are expected to air in the Fall.
TV Line wrote about the CW pick ups and Entertainment Weekly wrote about Constantine. The networks will reveal what night each show airs next week at their upfront presentations.
With Gotham, that's four new DC Comics TV shows coming in the Fall.
Here is the breakdown of each show:
The Flash
EPs | Greg Berlanti (Arrow), Andrew Kreisberg, Geoff Johns, David Nutter, Melissa Kellner BermanDIRECTOR | David Nutter (Arrow)CAST | Grant Gustin (Glee), Jesse L. Martin (Law & Order), Danielle Panabaker (Shark), Rick Cosnett (The Vampire Diaries), Candice Patton (The Game), Tom Cavanagh (Ed), John Wesley Shipp (the 90s The Flash), Carlos Valdes, guest star Patrick Sabongui, recurring star Michelle Harrison (Emily Owens, MD)
Based upon characters published by DC Comics, through a freak accident, scientist Barry Allen (Grant Gustin) is given the power of super speed that transforms him into the Fastest Man Alive.
iZombie
EPs | Rob Thomas (Veronica Mars), Diane Ruggiero, Danielle Stokdyk, Dan EtheridgeCAST | David Anders (Once Upon a Time, Alias), Robert Buckley (One Tree Hill), Rose McIver (Once Upon a Time), Malcolm Goodwin (Breakout Kings), Alexandra Krosney (Last Man Standing), Nora Dunn (Entourage), Rahul Kohli
A med student-turned-zombie takes a job in the coroner's office to gain access to the brains she must reluctantly eat to maintain her humanity, but with each brain she consumes, she inherits the corpse's memories. With the help of her medical examiner boss and a police detective, she solves homicide cases in order to quiet the disturbing voices in her head. Based on the characters created by Chris Roberson and Michael Allred, and published by DC Comics' Vertigo imprint.
Constantine
EPs | Daniel Cerone ("The Mentalist," "Dexter"), David S. Goyer  ("Man of Steel," "The Dark Knight Rises"). CAST | Matt Ryan as detective John Constantine, as well as Sons of Anarchy's Harold Perrineau (Manny); True Blood's Lucy Griffiths (Liv), and True Detective's Charles Halford (Chas).
Based on the wildly popular comic book series "Hellblazer" from DC Comics, seasoned demon hunter and master of the occult John Constantine (Matt Ryan, "Criminal Minds") specializes in giving hell... hell. Armed with a ferocious knowledge of the dark arts and his wickedly naughty wit, he fights the good fight — or at least he did. With his soul already damned to hell, he's decided to leave his do-gooder life behind, but when demons target Liv (Lucy Griffiths, "True Blood"), the daughter of one of Constantine's oldest friends, he's reluctantly thrust back into the fray – and he'll do whatever it takes to save her. Before long, it's revealed that Liv's "second sight" — an ability to see the worlds behind our world and predict supernatural occurrences — is a threat to a mysterious new evil that's rising in the shadows. Now it's not just Liv who needs protection; the angels are starting to get worried too. So, together, Constantine and Liv must use her power and his skills to travel the country, find the demons that threaten our world and send them back where they belong. After that, who knows... maybe there's hope for him and his soul after all. The cast also includes Harold Perrineau and Charles Halford. Writer Daniel Cerone ("The Mentalist," "Dexter") serves as executive producer with David S. Goyer ("Man of Steel," "The Dark Knight Rises"). "Constantine" is produced from Bonanza Productions in association with Warner Bros. Television. The show is based upon characters published by DC Entertainment.