First Video: Inside Gringotts Bank At 'The Wizarding World Of Harry Potter' Expansion
Universal Orlando's expansion of The Wizarding World of Harry Potter is gearing up to open this Summer, and Universal Studios has offered our first glimpse inside the new Gringotts Bank attraction. The Harry Potter and the Escape from Gringotts roller coaster will be located in the new Diagon Alley area, which is being built in the London waterfront area of Universal Orlando theme park. Guests will be able to enter Diagon Alley through a disguised special pathway, a recreation of Harry Potter's first entrance to the location in the film.
We don't know any official details of the Escape from Gringotts ride, but we do know it will be a "multi-sensory, multi- dimensional journey that will take theme park attractions to a new level." The queue will allow guests to walk through Gringotts Bank, complete with Goblins seen working inside. Universal has released the first video from inside Gringotts Bank, which includes our first look at the animatronic goblins.
And here is a brief look inside Gringotts Banks from the Today Show:
Here is some official concept art of what the ride will look like: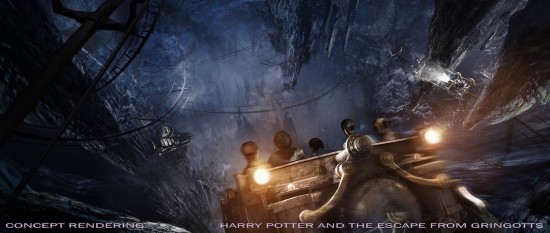 Official information on the Harry Potter and the Escape from Gringotts Bank attraction from Universal:
Enter Gringotts™ bank at the far end of Diagon Alley™ and walk through the grand marble lobby where you'll see goblins hard at work. Then, get ready to take a journey through the cavernous passageways that lead deep underground as you climb aboard Harry Potter and the Escape from Gringotts™. This groundbreaking new multi-dimensional ride puts you right in the middle of the action as you navigate your way through the perils of the Gringotts™ vaults – encountering Harry, Ron and Hermione along the way!
The Wizarding World of Harry Potter expansion is set to open in Summer 2014, with no exact release date officially announced at this time. The Today show will offer additional sneak peeks at the new Diagon Ally expansion throughout next week.