Will Ferrell And Adam McKay Producing New 'Flintstones' Movie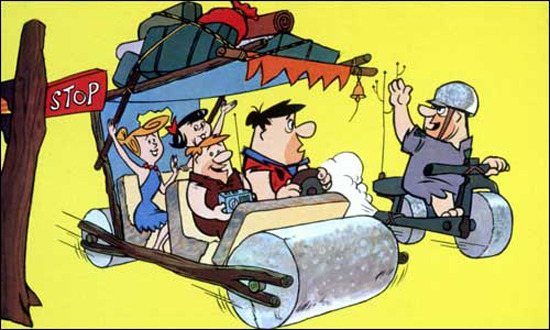 You can almost hear the cries of "Yabba, Dabba, don't" from fans everywhere but it doesn't matter. Warner Bros. is looking to bring the classic Sixties property The Flintstones back to the big screen, this time as a full-length, animated feature. Will Ferrell and Adam McKay are executive producing and Chris Henchy, who wrote The Other Guys and The Campaign, is penning the script. Read more about the latest Flintstones movie below.
The Hollywood Reporter broke the news of the deal. Though the stone age animated comedy was at its height in the 1960s, it's always been popular. In the 1990s, it spawned two live action films starring John Goodman, Rick Moranis, Elizabeth Perkins and Rosie O'Donnell. Steven Spielberg even produced. The first was a hit and the second was not. Plus, according to THR, Seth McFarlane recently took a crack at rebooting the show for television but it didn't work.
So it's a property Hollywood has been flirting with in the 50 or so years since it was a hit. That said, there's no word on what this Ferrell and McKay version will do differently, besides being animated. At least that's at least one step in the right direction.
The news comes on the same day a Mighty Morphin Power Rangers movie was announced, and mere weeks after a Jem movie went into production. You'd have to put the Flintstones way above those in terms of pop culture stability and relevance, but it's just example after example of a major studio – this time Warner Bros. – throwing money at a known property instead of something new and interesting. McKay and Ferrell's names surely give the project a tinge of comedic credibility but it would take a lot of good will for people not to view this project strictly with rolled eyes.
What are your thoughts on this new, animated Flintstones movie? Would Ferrell be a good Fred Flintstone?