'22 Jump Street' International Trailer: New Footage Parties With New Characters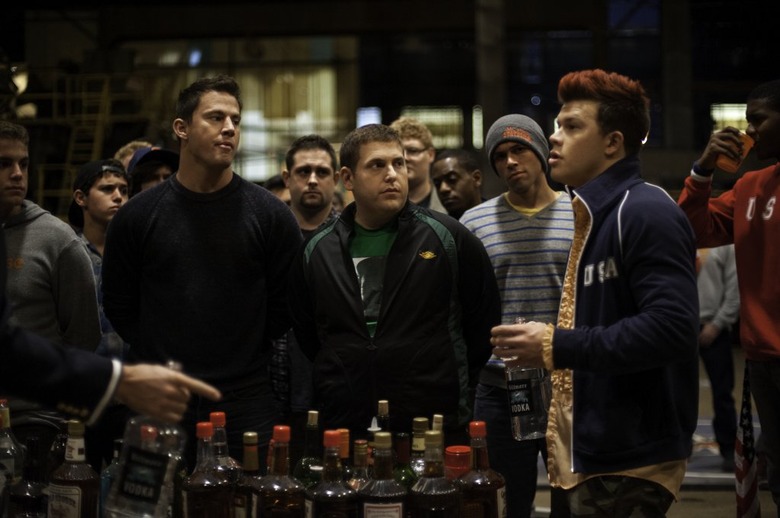 I can't tell you what's in the new 22 Jump Street trailer. I won't watch it. Phil Lord, Chris Miller, Jonah Hill and Channing Tatum all returning for the sequel to one of my favorite movies of 2012? I was sold before cameras began rolling. Then the first couple trailers showed the same kind of self-reference, smarts and laughs we've come to expect from the franchise. So the hooks were in. At that point, I didn't want to see any more, as comedy trailers tend to ruin many jokes in a film.
But this is a new 22 Jump Street trailer, from the UK, and just skimming through it you can tell there is a lot of new footage in here. In fact, it's mostly new footage. If you aren't as sold or excited as I am, you should definitely check it out. Or even if you are and can't contain yourself, I get that too.
Thanks to Flickering Myth (via First Showing) for the heads up on this new 22 Jump Street trailer.
While the first trailers focused almost exclusively on the returning cast members, this one (or at least, what I can see just skimming through the YouTube) finally introduces many new characters. You see some of the girls who'll play a big part in the story and some of the college guys Schmidt and Janko hang with. We even see the big Spring Break sequence in there. From what I can tell, it's a pretty good summation of what we can expect come June 13 in the U.S.
For more on 22 Jump Street, read our set visit including interviews with Lord and Miller and Tatum and Hill. Here's the official description:
After making their way through high school (twice), big changes are in store for officers Schmidt (Jonah Hill) and Jenko (Channing Tatum) when they go deep undercover at a local college. But when Jenko meets a kindred spirit on the football team, and Schmidt infiltrates the bohemian art major scene, they begin to question their partnership. Now they don't have to just crack the case—they have to figure out if they can have a mature relationship. If these two overgrown adolescents can grow from freshmen into real men, college might be the best thing that ever happened to them.