'The Hunger Games: Mockingjay' Casts Michelle Forbes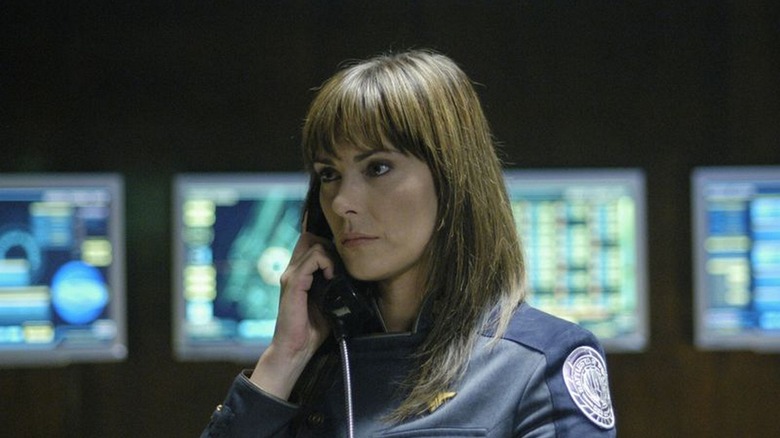 If the revolution against Panem's Capitol is to succeed, Katniss and her rebel friends are going to need some tough allies. Thankfully, The Hunger Games: Mockingjay – Part 2 knows just the gal.
Geek favorite Michelle Forbes (Star Trek: TNG, 24, Battlestar Galactica, True Blood, The Killing, Orphan Black... the list goes on) has just boarded the upcoming sequel, due out next year. Find out which character she's playing after the jump.
It's official! Please welcome Michelle Forbes as 'Lt. Jackson' to the cast of @TheHungerGames: Mockingjay Part 2. pic.twitter.com/gz1rv8K5j1

— The Hunger Games (@TheHungerGames) May 6, 2014
I won't pretend to remember all the details on Jackson, who's a minor character in the books. But the Hunger Games Wiki informs me that she is a soldier from District 13, and the second-in-command under Boggs (played by Mahershala Ali in the movie). Her special skill is sharpshooting.
The site also describes the character as looking "kind of sluggish," which doesn't really sound like Forbes. But I'm just happy to see her here. After facing Cylons and vampires, Forbes should find President Snow (Donald Sutherland) and his goons a piece of cake.
As mentioned above, Forbes has a long and varied career, mostly on the small screen. Her recent film credits include the indies Dear Sidewalk and Highland Park.
Forbes is one of several newcomers to the Hunger Games franchise, along with Julianne Moore, Natalie Dormer, Gwendoline Christie, and Forbes' Prison Break co-star Robert Knepper.
Additionally, familiar faces like Jennifer Lawrence, Josh Hutcherson, Liam Hemsworth, Sam Claflin, Jena Malone, and Donald Sutherland will all return for the next installment.
Both halves of The Hunger Games: Mockingjay are based on the final book in Suzanne Collins' Hunger Games trilogy. Part 1 is due out November 21, 2014, and Part 2 on November 20, 2015.
Francis Lawrence, who directed The Hunger Games: Catching Fire, is back at the helm for both Mockingjay films. The movies are shooting back-to-back and should be winding down sometime this spring.