'Tammy' Trailer: Melissa McCarthy Commits An Unrobbery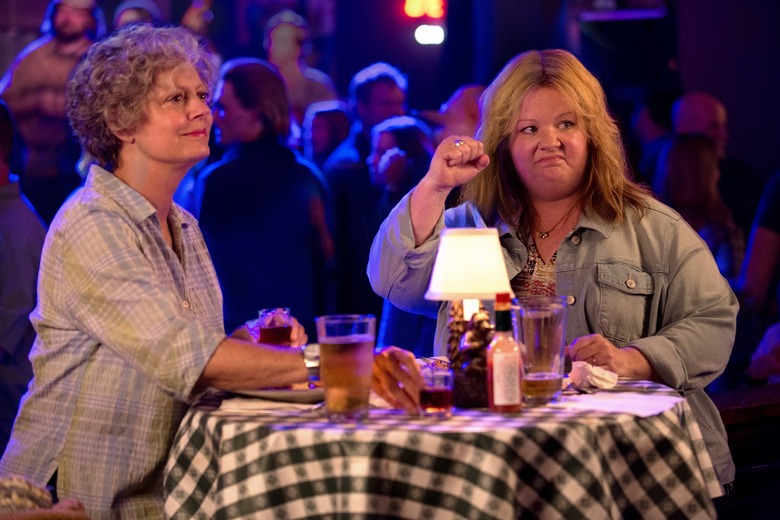 In just a few short years, Melissa McCarthy has proven herself to be a major box office draw. This summer, she'll put that appeal to the test again with her passion project Tammy. Her husband Ben Falcone directed the dark comedy, from a script they wrote together.
The plot centers on (you guessed it) McCarthy's Tammy, a woman who's just hit rock bottom. She's desperate to get out of town, but she's just crashed her car and doesn't have any money. So she agrees to go on a road trip with her alcoholic grandma (Susan Sarandon), who wants to see Niagara Falls. The first teaser did a good job of setting the tone of the film; now check out the rest of the Tammy trailer, which lays out more of the story.
McCarthy's whole onscreen schtick is built around being outrageous and out-of-control, and Tammy has plenty of that. But there's the potential for some bittersweet female bonding between Tammy and her grandmother, as well.
Tammy opens July 2. The stacked cast also includes Allison Janney, Gary Cole, Mark Duplass, Dan Aykroyd, Kathy Bates, Toni Collette,  and Nat Faxon.
Tammy (Melissa McCarthy) is having a bad day. She's totaled her clunker car, gotten fired from her thankless job at a greasy burger joint, and instead of finding comfort at home, finds her husband getting comfortable with the neighbor in her own house. It's time to take her boom box and book it. The bad news is she's broke and without wheels. The worse news is her grandma, Pearl (Susan Sarandon), is her only option—with a car, cash, and an itch to see Niagara Falls. Not exactly the escape Tammy had in mind. But on the road, with grandma riding shotgun, it may be just what Tammy needs.