This Week In Trailers: How To Build A Time Machine, Crystal, A Coffee In Berlin, Code Black, The Amazing Catfish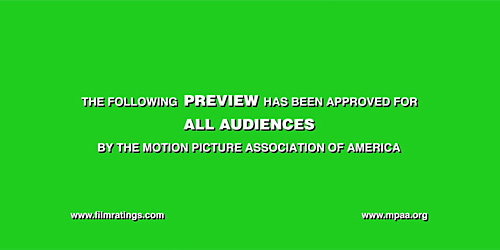 Trailers are an under-appreciated art form insofar that many times they're seen as vehicles for showing footage, explaining films away, or showing their hand about what moviegoers can expect. Foreign, domestic, independent, big budget: What better way to hone your skills as a thoughtful moviegoer than by deconstructing these little pieces of advertising? This week we desperately try to go back in time, cop an attitude in Germany, get left for dead in the ER, fantasize about dominating the dance floor and then "have a moment" with our family.

How to Build a Time Machine Trailer
When you produce one of the best trailers I saw in 2011, it stands to reason that I would be there to see what came next.
Director Jay Cheel not only astounded with the trailer for his film, Beauty Day, but after seeing the entire documentary it wasn't hard to see why the trailer was so damn good in the first place: his film was incredibly warm, intimate and powerful. He's finally back with a peek at his next venture: time travel.
Probably one of the best things I could possibly say about this trailer is how constrained it is. Obviously, we want to think of people who are genuinely trying to find a way to move between the time/space continuum and get to where no one has ever gone before as a little kooky or nutty. Seeing a movie like Lunarcy! only reinforces this notion of crackpots who will most likely never see their dreams realized as deluded fools but this trailer does something far more profound.
It takes one step back and simply listens.
Cheel infuses this trailer with good narrative substance while allowing these people to articulate the essence of their goals. It's not showy or looking for an angle. It wants to reveal a side to this business of time travel as a goal that these men couldn't see themselves doing anything else. In a way there is a quiet sadness to some of these pursuits but Cheel seems to be saying that these people don't need our derision or scoffing, they deserve their moment to make their case. And he does that exquisitely well.
Code Black Trailer
A vicious indictment of the current state of healthcare in the United States.
One of the first signs I saw that life isn't the same in the land of doctors was when I received a letter in the mail from my general practitioner that he was going to what he called a "concierge model."  I still don't know what in the hell that means but I DO know that in order to keep seeing him, it said, I needed to pony up a couple hundred dollars just to stay on his roll. In an effort to keep providing me only the best care in this time of health insurance uncertainty, of course.
Director Ryan McGarry gets right to the quick with his view on the state of modern medicine and how we train our new crop of doctors to be the very best they can be. It's focused in its barrage of different images and ideas as we're let in on the fact that this is a training hospital and this the true story (cue Real World theme song) of people who come together to get through one of the most rough periods of a doctor's career. The trailer is tight, has some levity imbued into it, and whips us right through what we'll experience should we go on this journey filled with actual life and death.
A Coffee in Berlin Trailer
A more mature look at the life of a young adult.
We don't have a moment to lose as we're smacked in the face with the many accolades this movie has earned. In what is the only real way to get a domestic audience's attention with a movie that's not only foreign but in a color not that far removed from black and white, director Jan Ole Gerster knew well enough to put out there that this is worth a couple of minutes of your time. He actually lets moments air out here and allows us to get to know our protagonist a little better.
The entire trailer just hums with this electricity as we follow our guy along city streets, into a subway, through a forest, but even though he seems to be searching for something deep and profound this never comes off as pretentious or twee. It looks like a sweet, genteel drama that doesn't ever stray into abstract territory. His struggles seem real and this trailer helps the movie project a sense of passion, purpose and sadness.
The Amazing Catfish Trailer
There's something about director Claudia Sainte-Luce's vision.
I'll say that they're missing a good opportunity to flash their accolade wares, they've deemed it better to stick those next to the very end of this thing, but, other than that, I love how we drift in and out of this narrative. I wasn't initially comprehending what was occurring but, after you give into it a little, you start to sense the dynamic. Even though we have a woman is joining together with a family that takes her in as if she were a stray pet we get those very same feelings of awkwardness that this stranger does as she grafts onto this existing family unit.
There is an obvious dying/sick/one last wish play afoot here but I'm OK with it only because we have a protagonist who didn't have anything to lose at the beginning but who will hopefully find something transformative about this entire experience by the end. I, for one, am interested in knowing how things turn out and this trailer does a serviceable in establishing the proper emotional cues that hopefully help sink those emotional hooks into your flesh.
Crystal Trailer
I love the flavor of this teaser.
Director Chell Stephen has drenched this thing with the kind of zing that leaves you thirsting for more. I couldn't tell you why we're all gathered here to see this girl shake her moneymaker in a wet fever dream that mashes rural country life with the kind of dancehall pizzazz usually reserved for cabaret dancers. The line between reality and fantasy is overtly blurred but I could care less. I gave my entire attention to this :36 spot and was rewarded with a pleasant eye-full.
Nota bene: If you have any suggestions of trailers to possibly be included in this column, even have a trailer of your own to pitch, please let me know by sending me a note at Christopher_Stipp@yahoo.com or look me up via Twitter at @Stipp
In case you missed them, here are the other trailers we covered at /Film this week: