Obi-Wan Kenobi Is In 'Star Wars Rebels;' And Maybe Lando Calrissian Too [UPDATED]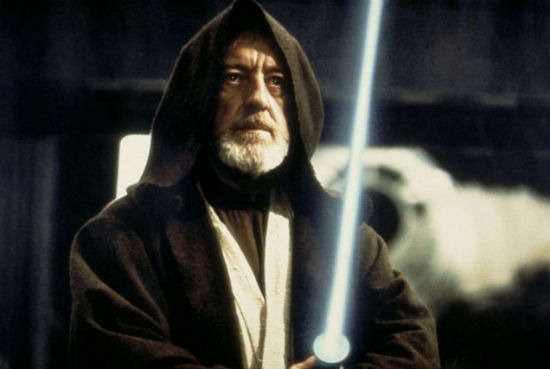 At the beginning of Star Wars Episode IV: A New Hope, Princess Leia asks one man to aid the fight against the Empire. "Help me Obi-Wan Kenobi. You're my only hope." That declaration is paying off on the small screen later this year. News recently broke that Obi-Wan Kenobi, the Jedi Master who brought Luke Skywalker to Tatooine and defeated Anakin Skywalker, will be a character on Star Wars Rebels.
UPDATE: A new post by the Star Wars Insider Magazine suggests Lando Calrissian is in it it too. Read more below.
JediNews first posted the news, which was discovered at a Rebels toys event. [Note: Originally this article was posted with this piece of fan art, but it was very confusing. Original article continues.]
Either way, the news comes as both a surprise and relief in the Star Wars universe. A surprise because, up till now, we'd only seen new Rebel characters in the show. Also, we'd been lead to believe Kenobi was a "strange old hermit" in his time on Tatooine after dropping Luke Skywalker with Owen and Beru Lars at the end of Revenge of the Sith. This suggests he didn't go idly into the night.
It's a relief because it shows a basic, but necessary desire to keep this story very tied to the canon of Star Wars. How much he appears, however, will be a huge deal.
Also, there's no word if James Arnold Taylor, who voiced the character on The Clone Wars, will be back. However, since Rebels is being made with so many of the original crew, it would make sense.
We'll likely know more when the trailer comes online soon and, if so, we'll add more.
"Star Wars Rebels" continues the epic tradition of the legendary Star Wars saga with all-new exciting, action-packed adventures.   It is a dark time in the galaxy, as the evil Galactic Empire tightens its grip of power from world to world.  As the series begins, Imperial forces have occupied a remote planet, ruling with an iron fist and ruining the lives of its people.  The clever and motley crew of the starship Ghost is amongst a select few who are brave enough to stand against the Empire. Together, this ragtag group will face threatening new villains, encounter colorful adversaries, embark on thrilling adventures and become heroes with the power to ignite a rebellion.
UPDATE: Making Star Wars pointed out this post on the Star Wars Insider Facebook page. Here's a glimpse: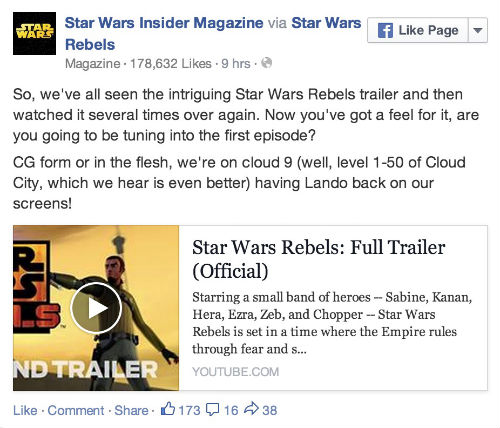 Now the Insider, which is the official Lucasfilm Star Wars magazine, is just sharing the Rebels trailer. But there's no hint that Lando is in the trailer. At all. So the mention feels so out of place, it almost seems like a typo. Or it's 100% accurate. We don't know a lot about Lando's history before The Empire Strikes Back other than what Han Solo tells us, so he could be a part of the Rebellion. Either way, it's potentially a big revelation.