Theme Park Bits: Harry Potter Closings, New 'Lion King' Stage Show And Disney Explorers
One park expands, another closes, and there's some cool hotel business going on. All in another edition of Theme Park Bits. Below, read about the following:
What is the Disney Explorers' Lodge?
Zonko's Joke Shop has closed at the Wizarding World of Harry Potter.
See photos of the new nighttime attraction and Lion King stage show at Animal Kingdom.
A new Disney themed hotel is opening at Hong Kong Disneyland and it's called the Disney Explorers' Lodge. Great name and it looks super cool. Head to Disney and More to see a ton of photos. And speaking of Disney hotels, the famous Disney Polynesian Resort will soon revert to its original, 1971 opening day name: Disney's Polynesian Village Resort. Read more here.
The Wizarding World of Harry Potter at Universal Studios Orlando has begun to undergo some major changes. With the Diagon Alley expansion opening in the next few months, some of the original attractions have begun to close. The most significant is Zonko's Joke Shop, which is being replaced physically by an expansion to Honeydukes and in theory with Weasleys' Wizard Wheezes, which will sell the same stuff. You can see photos of the changes over on Inside the Magic.
The official Disney Blog has information on two new additions to Animal Kingdom, which is getting expanded from now though Avatar Land in 2017. The first is the Rivers of Light celebration, which should rival World of Color at Disney's California Adventure. Here's an image: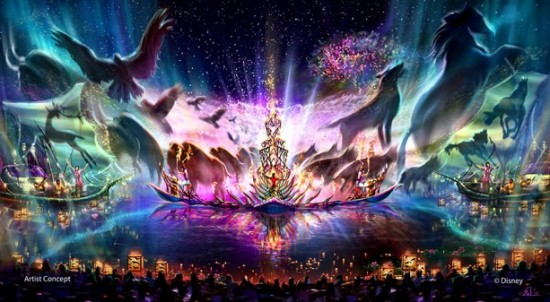 Another attraction coming to Animal Kingdom is The Lion King – Concert in the Wild, a huge new stage show that'll celebrate the 20th anniversary of the film. Here's some details from the Disney Blog:
This all-new, never-before-seen theatrical experience features a live orchestra and choir, dancers, digitally projected movie moments, and dramatic lighting and scenic elements – all hosted by a celebrity guest narrator. The show brings to life the humor, heart, and stirring emotional power of Simba's journey to find his place as the Lion King.
They have a list of the first people playing the narrator, and they include Viola Davis, David Allen Grier, Alfre Woodard and others. Here are some concept images.