First Official Look: Brad Pitt In 'Fury'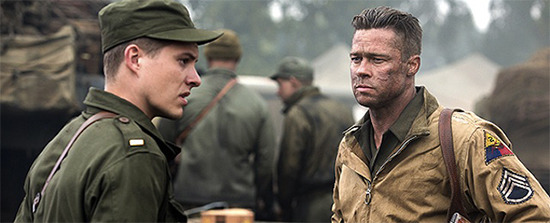 If you liked Brad Pitt as Lt. Aldo Raine in Quentin Tarantino's Inglourious Basterds, then David Ayer's new film may be right up your alley. We've seen many glimpses of the WWII tank squad movie already, as Ayer was generous with Instagram posts as he shot the film. But here's the official first look at Brad Pitt in Fury, playing a guy with the intimidating nickname "Wardaddy."
The shots come from People, as the watermarks show. The film also stars Shia LaBeouf, Logan Lerman, Michael Pena, Jon Bernthal and Jason Isaacs, and you'll see some of those guys in the shots below.
Fury opens on November 14.
The film is set at the very end of World War II, in April 1945. As the Allies make their final push in the European Theater, a battle-hardened army sergeant named Wardaddy commands a Sherman tank and her five-man crew on a deadly mission behind enemy lines. Outnumbered and outgunned, Wardaddy and his men face overwhelming odds in their heroic attempts to strike at the heart of Nazi Germany.