Star Wars Bits: 'LEGO Star Wars', '1313', 'Saber III', Daisy Ridley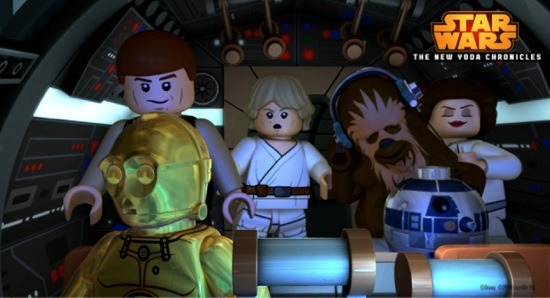 Happy (upcoming) Star Wars Day to one and all! After the jump:
Carrie Fisher's mom and Daisy Ridley's dad comment on casting
EW's Anthony Breznican reveals what he knows about the script
Here's another look at that 1313 game you'll never get to play
Star Wars Day brings some special discounts on games that do exist
Watch a trailer for LEGO Star Wars: The New Yoda Chronicles
D23 brings you a special Star Wars Day message from R2-D2
Wonder what the folks at Lucasfilm are eating for Star Wars Day?
Watch a sexy lightsaber battle in Joe Lynch's short Saber III
Meanwhile, Daisy Ridley's dad Chris Ridley sounds even more thrilled to have his daughter in Episode VII. "She is an extraordinary lady, though not an easy one," he said. "But if anyone can handle it, she can." He also gushed about one of Ridley's famous future co-stars.
She came home and said she'd had coffee with Harrison Ford and he said, 'Don't call me Mr Ford! Call me Harrison.' He's a very sweet guy, though he looks terribly grumpy. She said he looks much better than he does in films and he's a much nicer guy.
Learn more about Episode VII's most mysterious new star at the Mirror.
As for what exactly all of these actors are going to be doing in the new Star Wars, those details are being kept under wraps. But EW's Anthony Breznican spills what he does know about the new film, which is that Han Solo will have a huge role.
.@EW senior writer @Breznican revealed some behind-the-scenes info about Star Wars Episode VII on @ewlive https://t.co/3XPdU3drFb

— SiriusXM (@SIRIUSXM) May 1, 2014
I have heard that it's not just a case of these veteran Star Wars actors popping in for a two-minute cameo. That Harrison Ford's Han Solo is one of the leads of this story. And I think Carrie Fisher and Mark Hamill, their characters are more supporting, but also significant in the way that Alec Guinness was a supporting character, but vital, not just a throwaway cameo, where they just pop in and wave and play a Stormtrooper or something for a joke. [...]
Episode 7. This is a Han Solo story. It's about the next generation. Which I think is appropriate. This is the story of life. As we get older, we hand the reins to the generation that comes after us, and control of the galaxy is no different. I hope that they manage to put some heart into the story, some resonance, that was always embedded in the early Star Wars movies, even if we didn't realize it.
That's still pretty vague, but it does go with what we've heard previously about Harrison Ford's involvement. [Twitter]
One of the casualties of Disney's acquisition of Lucasfilm was Star Wars 1313, a game that had been developing at LucasArts before the division was shut down. So it's both awesome and awful to see what we might have had, in the form of concept art from artist Bruno Werneck.
See more at Werneck's personal site and his Art Station page. [via Kotaku]
On the bright side, you can get a bunch of discounts on the Star Wars games that do exist thanks to Star Wars Day. Get a comprehensive list of deals at Disney Interactive.
Ditch the dark side and join the lighter side with the latest episode of LEGO Star Wars: The New Yoda Chronicles, titled "Escape from the Jedi Temple." Watch the trailer below:
The first of four new episodes, "Escape from the Jedi Temple" will air on the Disney Channel this Saturday, May 3 at 9 PM and on Disney XD this Sunday, May 4 (Star Wars Day!) at 7 PM. [YouTube]
Speaking of Star Wars Day, here's a special May the Fourth message from R2-D2.
Honestly, the message itself is not terribly interesting and certainly not worth all that trouble. But it's R2-D2, so just watching him trying to deliver it is adorable. [YouTube]
Meanwhile, here's how the good folks at Lucasfilm are celebrating this most special of holidays.
The #Lucasfilm dining commons is ready for #StarWarsDay. #starwars pic.twitter.com/0s6ugKTEms

— Matt Martin (@missingwords) May 2, 2014
Cute idea, but isn't it a little disappointing to realize that the Lucasfilm cafeteria doesn't serve Tatooine taco salad and Grand Moff turkey cheesesteak every day? [Twitter]
Finally, if watching sexy, scantily clad women duel with lightsabers sounds like your kind of thing, then we have just the clip for you. Here's Saber III, a short film directed by Joe Lynch.
Yes, the III indicates that this is the third in a series. Here's Saber II and here's the original Saber. [Nerdist]