David Goyer Going On 'Fantastic Voyage' With James Cameron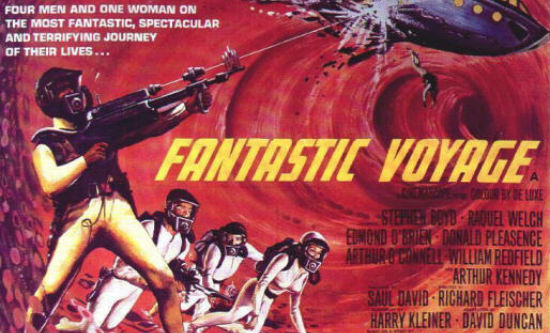 Producer James Cameron has been trying for years to get a Fantastic Voyage remake off the ground, to little avail. The last time we even heard about the project was in 2011, when Shawn Levy was still attached to direct. But now it's getting new life with some help from David Goyer.
The Man of Steel writer has been tapped to write the treatment for the sci-fi adventure, as well as executive produce. Hit the jump for all the latest updates on Fantastic Voyage.
Fantastic Voyage has gone through a lot of potential directors over the years as well. Levy was the last one to board, but has since jumped ship; before him, Paul Greengrass and Roland Emmerich were also linked to the project.
As of now, there's still no director and no star. But Fox hopes that things will pick up with Goyer on board. Fantastic Voyage has reportedly been fast-tracked at the studio, and producers hope it'll become an "event-sized tentpole."
The original Fantastic Voyage came out in 1966 and centered around a team of scientists who shrink themselves and enter a man's body to try and save his life. The premise has been parodied and riffed on numerous times in the decades since. Joe Dante's Innerspace was inspired by it, as were episodes of shows like Futurama and Family Guy.
Goyer is best known for his work as a screenwriter on comic book movies like the Dark Knight trilogy, Man of Steel, and the upcoming Batman vs. Superman film. He recently wrote a treatment for Sandman, which might be directed by Joseph Gordon-Levitt.