Early Buzz: 'Mad Max: Fury Road' Test Screening Reactions And Synopsis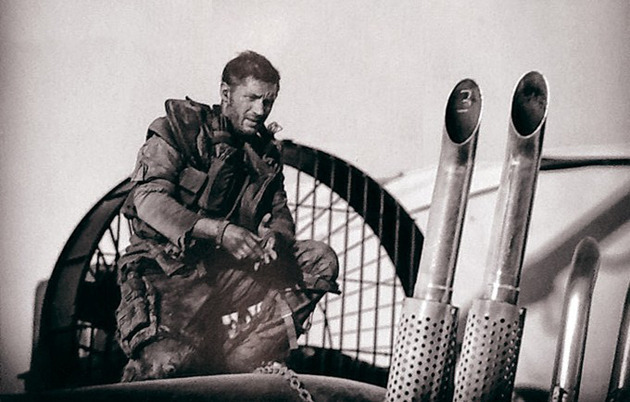 We've been waiting for Mad Max: Fury Road for what feels like eons, and we've still got a little while longer to wait. Though the film started shooting in 2012, it's not hitting theaters until 2015. And so far, all we've seen from it are a couple of on-set photos.
But last night in Burbank, a group of people got to sample a whole lot more. Warner Bros. had a test screening for a rough cut of the film, and the first reactions from the showing have started to come in. After the jump, get a taste of the early buzz from the Mad Max: Fury Road test screening and read a new official plot synopsis.
In other words, the reactions below are not reviews, and shouldn't be treated as such. Even so, it's kind of exciting to see what people have to say now that the movie is finally nearing completion.
Here's Randy at Action Figure Times:
This IS the kind of Mad Max II/The Road Warrior on steroids, go-big-or-go-home, bug-nuts crazy, toss-you-in-the-deep-end mythology and put-it-all-out-there-in-case-we-never-make-another-one Mad Max Fury Road. [...]
This movie feels like thirty years of Miller holding in passion for a world that he built so long ago, exploding on the screen. You, remember the third act of The Road Warrior, the bad-ass truck chase that is still hailed as a masterpiece of filmmaking? You do? Good.
Because that's what this whole movie pretty much is-and it works! A chase that goes long and deep into the heart of Miller's post-apocalyptic world, trying to get out of the Wasteland. It opens up and hardly slows down.
And Kevin Craig West on Facebook:
just came from a year in advance screening of "Mad Max Fury Road". Weird to not see Gibson as Max but Tom Hardy holds it down just fine. Great action sequences and amazing post apocalyptic vehicles and costuming with awesome makeup.
Went to a preview screening tonight of Mad Max: Fury Road... Due out in a few months and you are in for a treat...

— Adam Lamar (@Antiochian2010) May 1, 2014
Twitter user @Breeza7 was similarly enthused, writing, "I can't see anyone not liking it." They also added that star Tom Hardy's accent in the film was "not American sounding like CT, but not British. Hard to explain."
So far, all very positive. We'll see if the film manages to live up to the hype, but the fact that there's hype at all seems like a good start.
Mad Max: Fury Road, directed by George Miller and starring Hardy, Nicholas Hoult, and Charlize Theron, opens May 15, 2015. New synopsis below.
MAD MAX: FURY ROAD is the fourth film of George Miller's Road Warrior/Mad Max franchise co-written and directed by Miller. The post-apocalyptic action film is set in the furthest reaches of our planet, in a stark desert landscape where humanity is broken, and most everyone is crazed fighting for the necessities of life.
Within this world of fire and blood exist two rebels on the run who just might be able to restore order... There's Max (played by TOM HARDY from The Dark Knight Rises), a man of action and a man of few words, who seeks peace of mind following the loss of his wife and child in the aftermath of the chaos.
And... Furiosa (played by CHARLIZE THERON from Prometheus), a woman of action and a woman who believes her path to survival may be achieved if she can make it across the desert back to her childhood homeland.