'Amazing Spider-Man 2': Mary Jane's Deleted Scene Revealed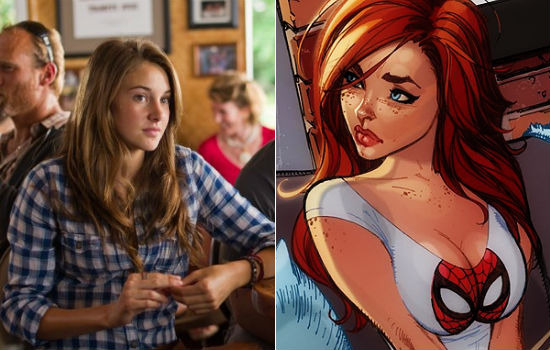 Early on, one of the major casting reveals for The Amazing Spider-Man 2 was that Shailene Woodley would be playing Mary Jane Watson. Woodley got as far as shooting her scenes for the movie, only to be cut from the final edit. But now director Marc Webb reveals how she would have fit into the film. Hit the jump to find out.
Note that potential spoilers for The Amazing Spider-Man 2 follow.
Webb spilled the details to Movies.com.
There was one little scene at the beginning where she is next door and it took place right around the montage where he comes back and there was another little moment between Gwen and MJ.
Webb continued with an explanation of why MJ was axed.
But it just tipped over. The relationship between them [Peter and Gwen] is so sacred and so powerful, that it just didn't feel right. And it sucks because Shailene is such a f**king great actress and so cool and magical but it was just about having this obligation to this romance that I thought was sacred. It was just one of those things.
Woodley was never intended to have a big role in The Amazing Spider-Man 2. The idea was that she'd cameo in this movie before stepping up for a bigger part in The Amazing Spider-Man 3. But when she was dropped from 2, word quickly spread that she was unlikely to appear in 3.
As of now, it's still unclear whether Woodley might come back to fill the role. Webb doesn't sound too optimistic, pointing out "Divergent is a massive hit and I think it's going to be tricky for schedules."
Rest assured, though, that MJ will appear in one form or another. Webb says the character will "absolutely" show up in the franchise, adding, "The question, of course, is can Peter ever love again? And that will be something that we have to address."
In fact, Peter might even get two love interests in the near future. Felicity Jones has a small role in 2 as Felicia — presumably Felicia Hardy, a.k.a. Black Cat — who has a romance with Spidey in the comics. But not surprisingly, Webb would neither confirm nor deny a Felicia/Peter romance.
In the comic books, yes. Who knows what's going to happen with that in the future. But there are a few possibilities we're exploring but in terms of theme, that's certainly an interesting thing to play with.
The Amazing Spider-Man 2 opens this weekend.