HBO's 'The Comeback' Is Making A Comeback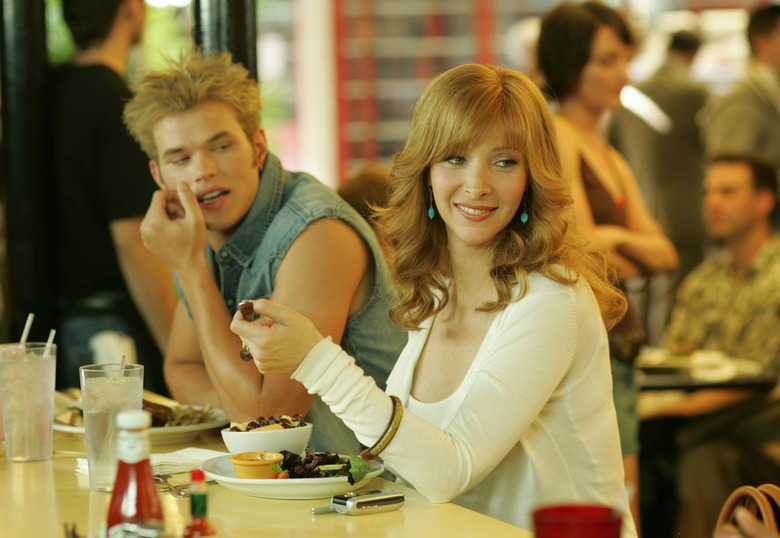 How appropriate that a show called The Comeback should be staging its own comeback. HBO is reportedly planning a six-episode second season of the HBO comedy, which aired for a single season in 2005. Star Lisa Kudrow is expected to return, along with Malin Ackerman and Kellan Lutz. More details on the show after the jump.
The Comeback ran for only one 13-episode season on HBO in 2005. It was far from a ratings hit, but it earned some critical acclaim including three Emmy nominations, and has developed a cult following in the years since. At the center of the half-hour comedy is Valerie Cherish (Kudrow, in a brilliant performance), a washed-up sitcom star trying to get her career back on track with a supporting role in a sitcom.
As part of her return to the spotlight, Valerie is concurrently shooting a reality show about her comeback called (duh) The Comeback. The actual HBO series The Comeback took the format of raw footage shot by the fictional The Comeback's documentary crew.
According to E!'s sources, The Comeback Season 2 will pick up nine years after the end of Season 1. Ackerman and Lutz aren't expected to be in every episode, but rather will be"woven in and out" as the storyline requires and their schedules allow. Also expected to return are the show's creator Michael Patrick King and writers Dan Bucatinsky and Amy B. Harris.
The six episodes are intended to serve as a standalone event series. But HBO isn't stupid, so if it does well there's a possibility that HBO will renew the show for real. There's no word yet on when The Comeback Season 2 might premiere.