'The Knick' Teaser: Clive Owen Extols The Virtues Of Modern Medicine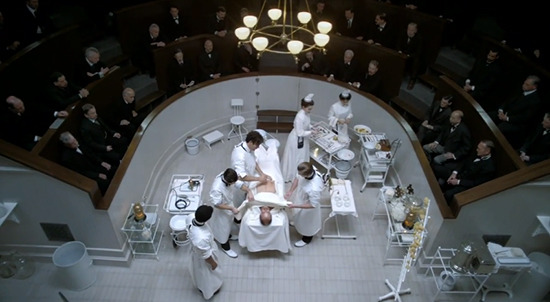 Cinemax is going slow with the release of footage from Steven Soderbergh's TV show The Knick, but that's OK. The series tells of the early days of modern surgical medicine, focusing on one doctor (played by Clive Owen) at New York's Knickerbocker Hospital. The prior teases were basically still images with ominous music from saxophonist extraordinaire Colin Stetson. This one is still short at 30 seconds, but it at last gives us some dialogue and moving images. They're still fairly ominous, and weirdly appealing. Check out the latest The Knick teaser below.
I love the way the music and sound effects blend together. Stetson is known for using the valves on his signature baritone sax as percussive accompaniment to his horn-blowing. Here the mechanical sounds of the early surgical instruments blend right into Stetson's playing. Cliff Martinez has composed the score to the show, and I'm hoping fervently that Stetson is all over the show's actual music, too.
The Knick is set to air this summer on Cinemax; there is no official premiere date set (or announced, at least) at this point. Teaser via Cinemax.